FRAGMENT is the title of Maria Bruun and Anne Dorthe Vester's solo show at Kunsthal Charlottenborg, an installation that expand on the duo's earlier work but on a larger scale.
Kunsthal Charlottenborg's Spring Exhibition is a juried art show that's been an annual tradition for well over 150 years. This exhibition at the heart of Copenhagen attract almost one thousand submissions each year from all over the world, with about a hundred making the cut and a dozen or so shortlisted for one of two awards. This year sculptures, installations and other object-oriented works dominated the show, notably Robert Cervera's concrete objects, Kenichro Taniguchi plastic sculptures, but also Mie Frederikke Fischer & Margaux Parillaud immersive Well now, it looks as if you are armed for battle, to mention just a very narrow selection.
Uninhabited Typologies
The real highlight is FRAGMENT an installation by architect Anne Dorthe Vester and designer Maria Bruun, last year's winners of the Spring Exhibitions's Solo-Exhibition Prize. Together the duo has developed a distinct style and focus and they are primarily concerned with overlaps and intersection of art, design and architecture. In last year's award winning Objects of Use, the duo presented several pieces that examined various modes of form preceding function. FRAGMENT is in many ways an extension of these ideas but on a larger – architectural – scale. The actual installation is presented in a separate exhibition, extending multiple levels from the floor to the ceiling. And much like Objects of Use, the aesthetic framework for FRAGMENT is heavily influenced by mid-century Danish design, incorporating oak wood, fine brass details, joinery techniques and a meticulous attention to details.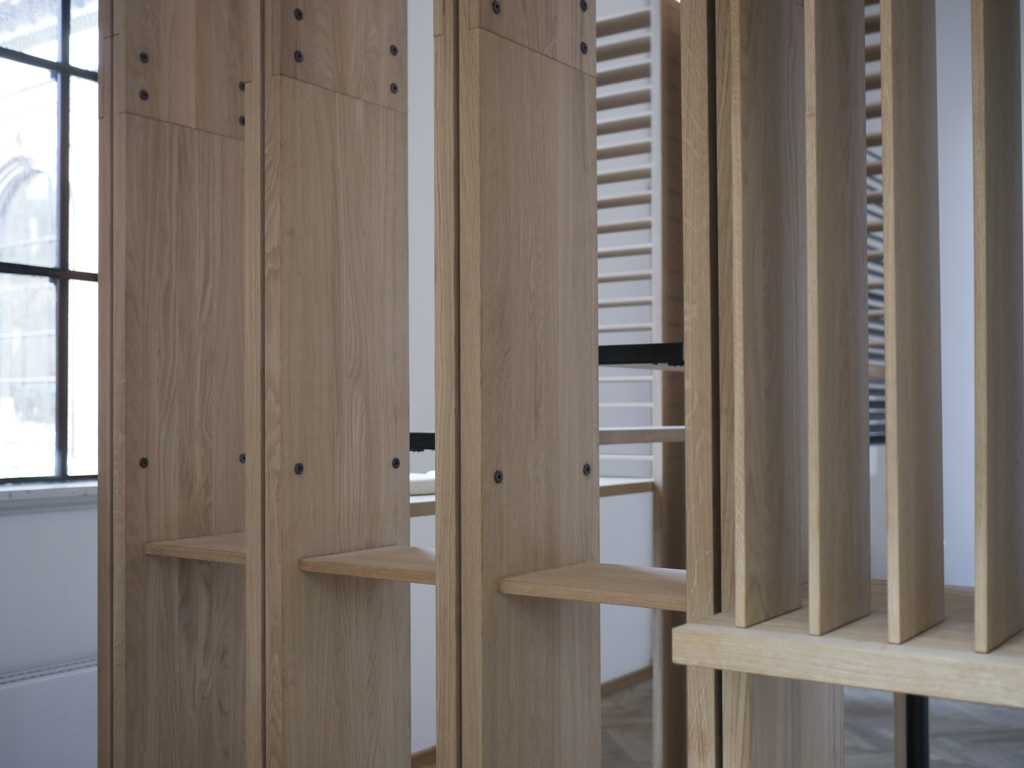 Stringent and constrained, FRAGMENT is made up of elements that partition the exhibition space with slats and grates, not concealing its structure but also not disclosing its purpose. The installation incorporate familiar elements such as stairs, seats, joints and so on, but the context is unfamiliar, fragmented yet contained within a singular expression. FRAGMENT like Objects of Use suggest a sort of open-endedness, a speculative form of architecture with uninhabited typologies.