Ung Svensk Form aka Young Swedish Design is a very broad exhibition covering emerging ideas within the fields of industrial design, craft and fashion. The exhibition constitute a collection or a cross section of current best practices by some of the most relevant young creative talents on the Swedish design scene.
Young Swedish Form is a juried showcase going on almost 20 years now, that encourage young designers to apply with projects that doesn't necessarily fit into the conventional business-industrial framework. Although there are no specific themes for this exhibition the last few rounds have pivoted towards more experimental projects with critical design thinking one the hand and more conceptual pieces on the other, the ongoing resurrection of craft and studio design has also been reflected in the juries' selections. The one big tendency is a concern for the future and the social and ecological impact of manufacturing. This year's edition more than ever reflect this development with projects critically examining consumer culture, re-examining traditional materials or introducing new material combinations. But for this reason it could also be argued that it would be beneficial for future application rounds to include tech oriented projects, it just seems like a missing piece in any context where a sustainable future is discussed. But for now …
…a selection of the 2016 edition
Kristina Schultz's 100 Days of Need and Craving gained a fair amount of media attention when the project was presented at last year's graduation show at Konstfack and later at DDW2015. 100 Days attempts to examine the relations between us – the consumers – and the things we want and we think we need. For the purpose of this project Schultz and her family turned their own home into a laboratory for the duration of aforementioned 100 days. Starting out with a completely emptied out apartment the rules of the experiment stated that they had to make all the things they wanted and felt they needed by themselves. Some of these artefacts are now the basis of the actual exhibition but the the project website chronicles the experience in greater detail. Although 100 Days is a multilayered project the overarching framework is the ideological construction of the notion of "home" as seen through the perspective of self-imposed urban primitivism.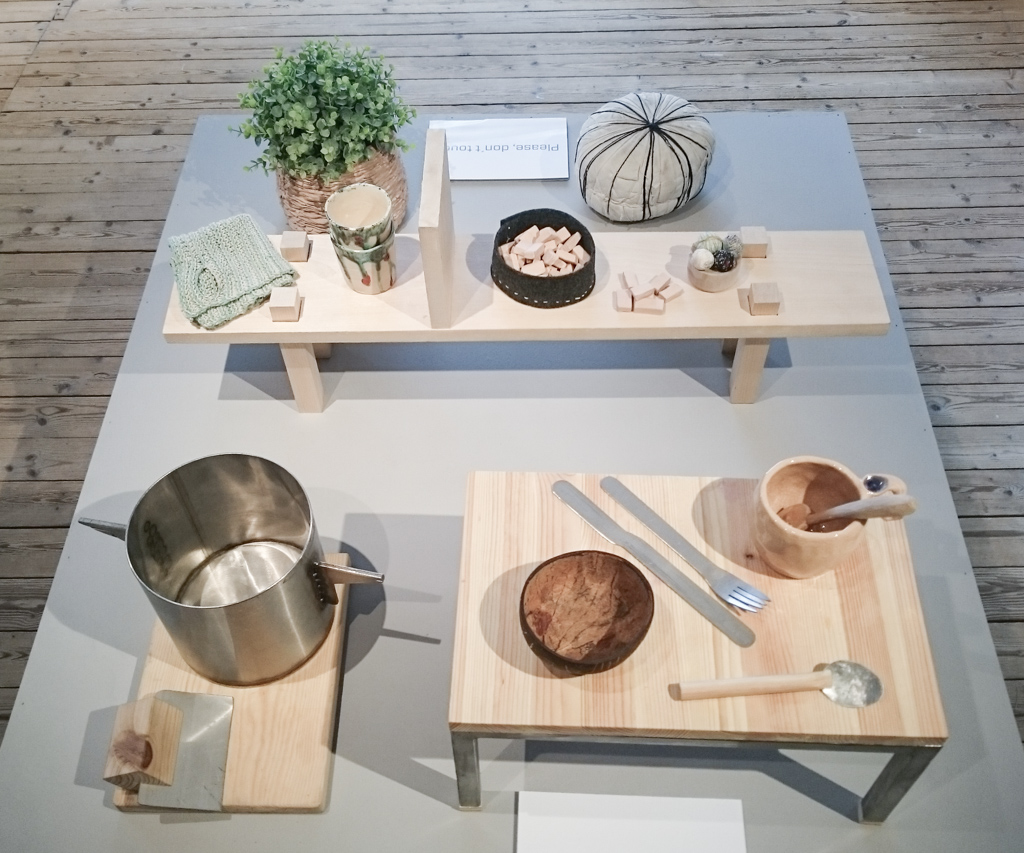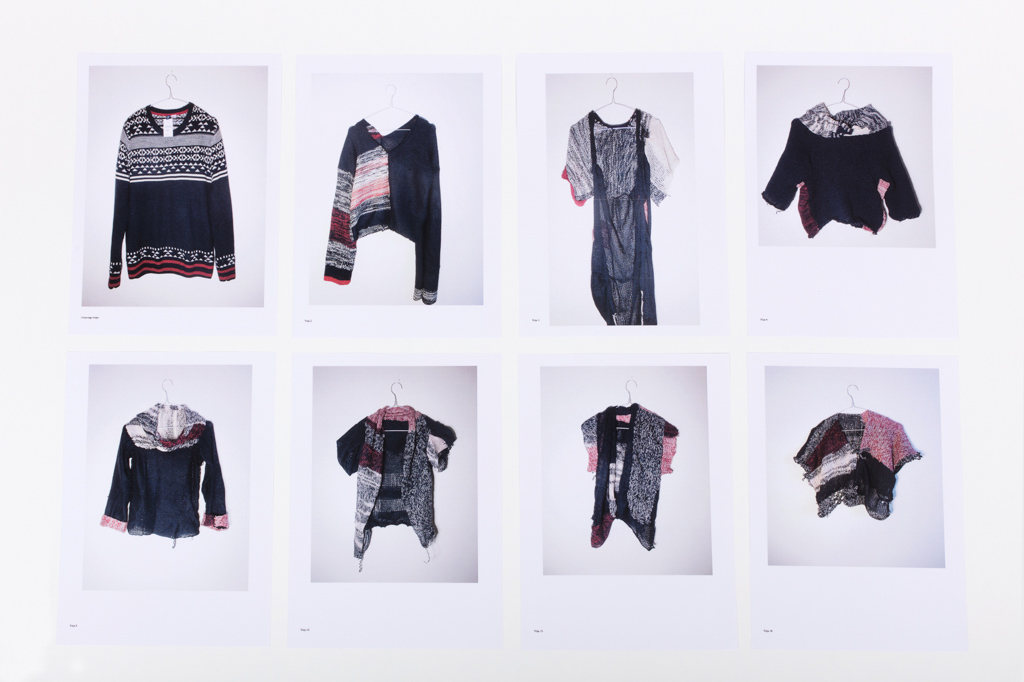 Josefin Tingvall's 100 to 0 is also critical examination of consumer culture, focusing on the textile and fashion industry. Taking her point of departure from a knitted H&M sweater bought at a thrift shop, Tingavall unraveled and re-knitted it twenty times, each time creating a new piece. By illustrating how the material outlives the design the critique is directed towards the increasingly fast and increasingly unsustainable consumption cycles of fashion.
Out of Function appears to be a collection of utilitarian garments but what at first seems to be workwear or outdoor clothes in fact contains paradoxical elements and fragile materials. Creator Naemi Gustavsson use this collection to examine normative masculinity and the masculine narrative obsessing over functionality and authenticity.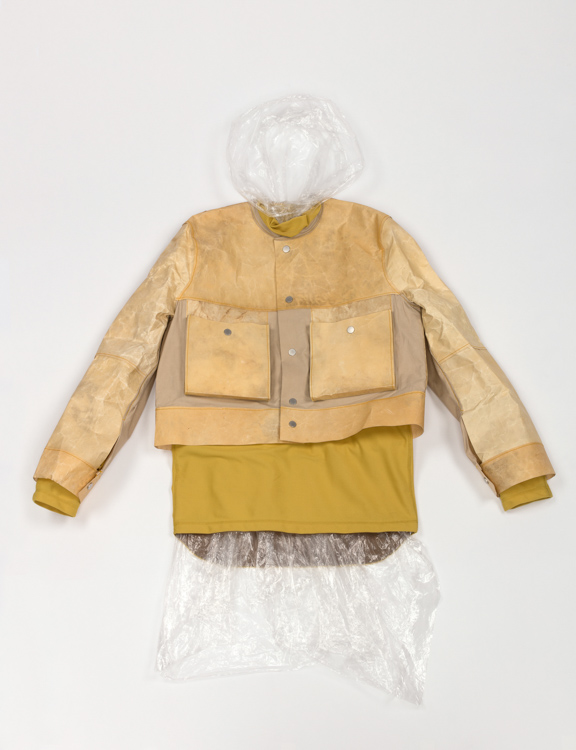 In the craft department Daniel Svahn's Castor bowls are made out of trees felled by beavers. Svahn has kept the animals' teeth marks as a decorative element on the bowls' exterior, a reminder of the odd collaboration. Andersson Copra represent a more straightforwards view of craft with their meticulous and painstakingly simple, handcrafted chef's knives; making the best knives possible with the available local resources.
Birch bark has been an integral part of Nordic craft for centuries, a versatile material used for making shoes, ropes, drinking vessels and small containers. Today birch bark is perhaps mostly considered for its historical or decorative value. Attempting to resurrect this material Emma Dahlqivst has used both traditional techniques and contemporary methods to create something closer to textile. This experimental material is of a completely cyclical nature and sustainable, giving it the perhaps most important qualities for a future material. Gelifoam on the other hand is a modern material with an ambiguous appearance and one of the oddest construction to Young Swedish Design 2016. The material created by Catrin Sundberg and Christel Almquist is in fact a mix of candy and wood, unexpected and challenging to preconceived notions of materiality and functionality.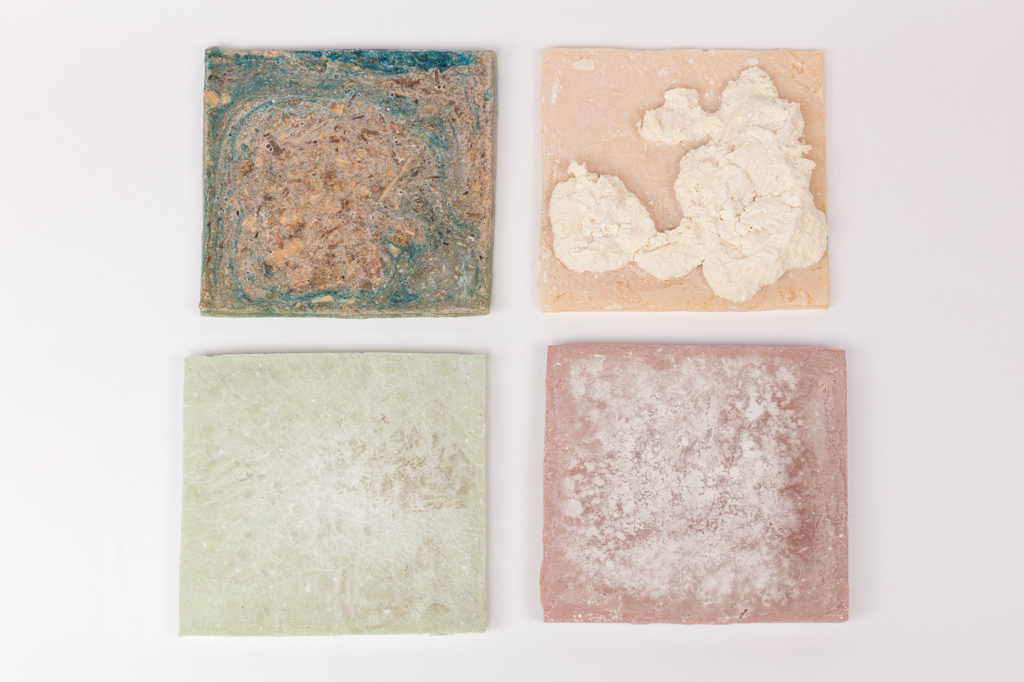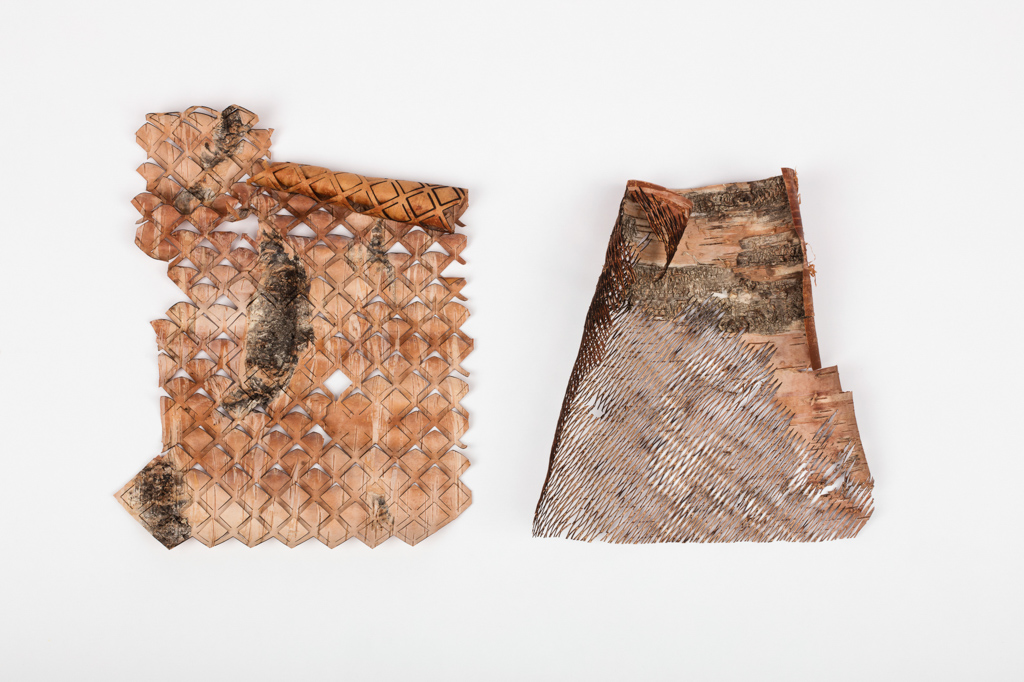 It's notable that there are very few projects or prototypes with an industrial design foundation at this year's exhibition with the exception of Darlie Lau's Carousel stool, Therese Hallbergs's precrious looking cabinet and Fundamental Essential by Samuel Kuhfuss. Fundamental Essential is a collection of furniture with both functional and sculptural qualities, and living descendants of Donald Judd. Carried out with a rigorous aesthetic expression the pieces are essentially about the nature of the unique and mass-produced. A fundamental opposition that Kuhfuss that is perhaps not resolved but contained within the pieces of Fundamental Essential.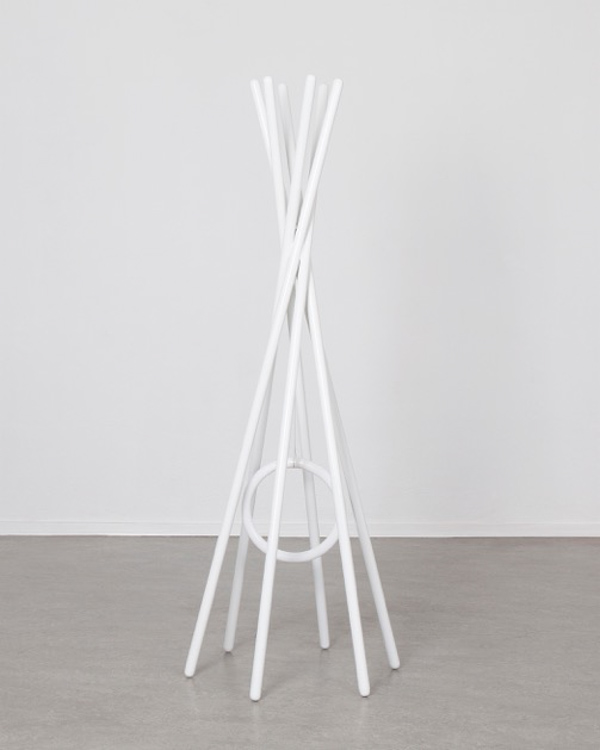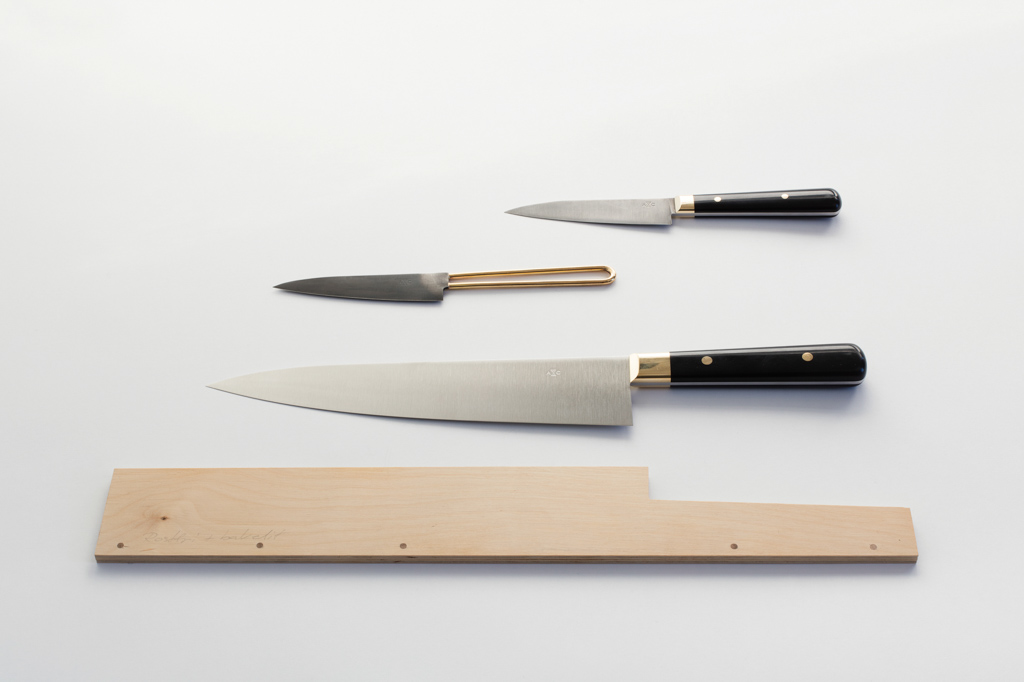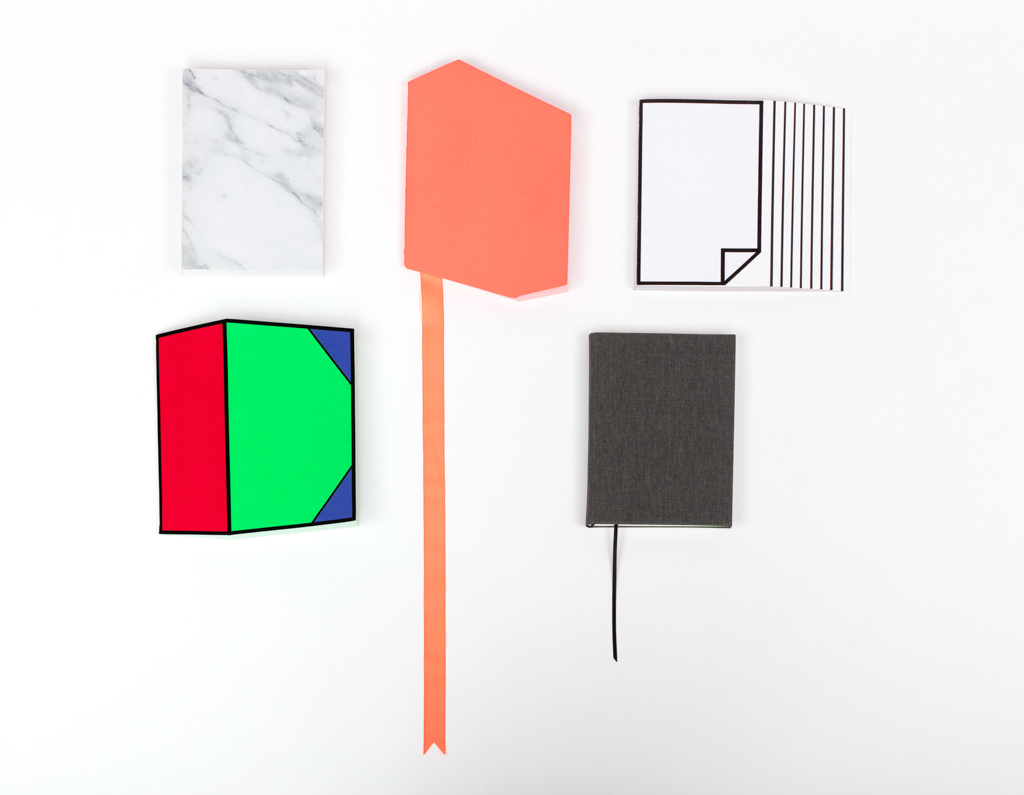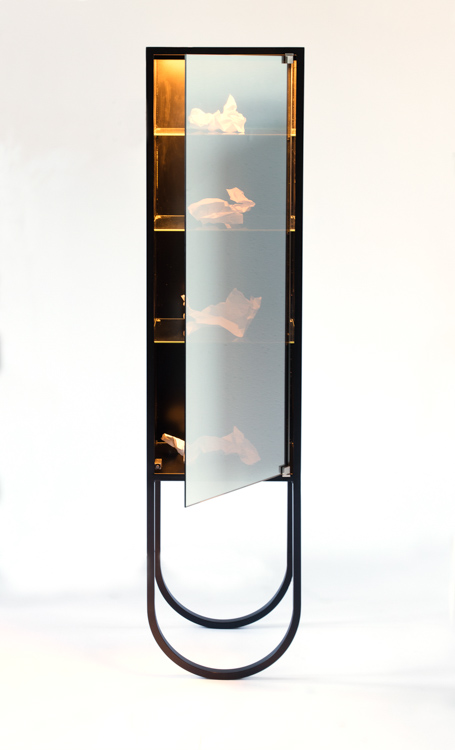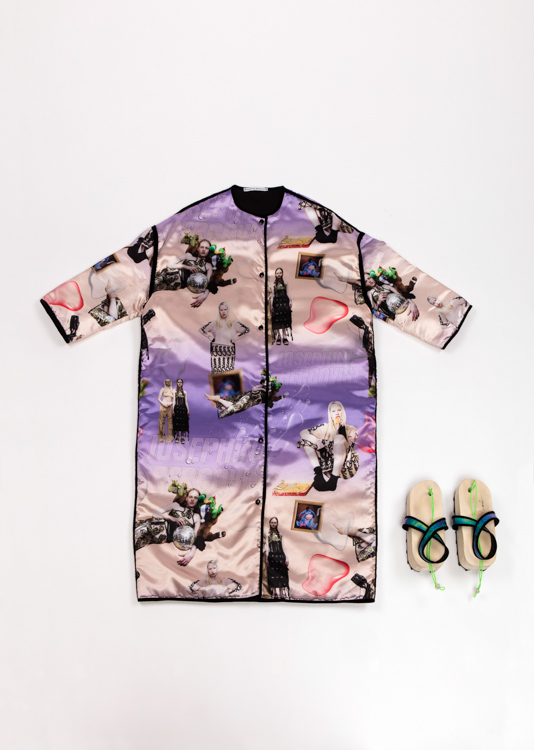 Participants:
Therése Hallberg – Filter Cabinet, Sarah Hurtigkarl – Dining Shore,  Samuel Kuhfuss – Fundamental Essential, Rebecka Jansson – Cutting-edge, Naemi Gustavsson – Out Of Function,  Maria Seipel – Approaching (the) Book as Matter, Love Hultén – R-KAID-R,  Kristina Schultz Lindberg – 100 dagar av behov och begär,  Julia Schollin – Stuck it,  Josephine Bergqvist – Multiple Style Tribe,  Josefin Tingvall – 100 mot 0,  Jens Peterson Berger och Olov Ylinenpää – Ajna, Emma Dahlqvist – It ́s Now or Näver, DarlieLau – Carousel Stool, Daniel Svahn – Castor, Christoffer Ohlander – Neo-Animism:  Discovering new  species in the  product design jungle, Catrin Sundberg och Kristel Almquist – Gelifoam, Cajsa Wessberg  – Köttdjur, Annika Lunneskog – Mistopia, Adisa Copra, Joel Andersson  – Little black dress