Copenhagen's 3 Days of Design has come a long way in just a few years. What started out as a rather small, loosely organized event featuring mainly established furniture producers and interior design firms, is today a broader and more inclusive event.
Gradually the focus has been widening to include more emerging brands and talents, this year also includes collaborations with the Swiss Embassy and Vitra as well as the Institut Français hosting a small retrospective of Samuel Accoceberry works. Under new director-curator Signe Byrdal Terenziani, 3 Days of Design has also gained in relevance and credibility becoming an event with a clearer direction and purpose.
It should be said that 3Days of Design isn't exactly a "design week" or a trade show, it's more like an open invitation to showrooms, workshops and pop-ups around the city. A summary of the Danish design today, it's traditions and possible futures ranging from the showrooms of Rud Rasmussen and Carl Hansen through Muuto and &tradition to Frama and indy designers.
3 Days of Design – traditions and futures
It all started at Pakhus 48 an old warehouse at centre of small cluster of showrooms in Nordhavn, the Northern Harbour. This former free port is currently focal point of the perhaps most ambitious urban redevelopment project Copenhagen has seen in recent history, transforming a major commercial port area into waterfront mixed-use neighborhoods. Although most of the area is still a dusty construction site, it's home to well known Danish brands such as Gubi, Montana, Erik Jørgensen, and previously Fritz Hansen with additional guests for 3 Days of Design like PP Møbler. Another local, Grid, is a side project of Montana founder Peter J. Lassen, that further expand on some of the underlying design principles of the Montana system. But unlike the almost impossible number of pop-colored MDF combinations offered by Montana, Grid is based on a more stringent system – a 40x40x40cm wire cube made out of fiberglass reinforced nylon – comes in either black or white. The purpose is to offer a completely modular interior concept that can be modified with a few accessories in order to build seating, tables or shelves. Standing in the middle of the strict geometry of the showroom is like being inside a Superstudio structure. Next door innovative textile brand Kvadrat showcase their new collection by Akira Minagawa with the exhibition Forest Come Home. Throughout the showroom textile objects with soft organic curvature are either suspended from the ceiling or standing on the floor. Upholstered with Minagawa's collection, the fine details of the fabrics are contrasted against the large scale of the objects.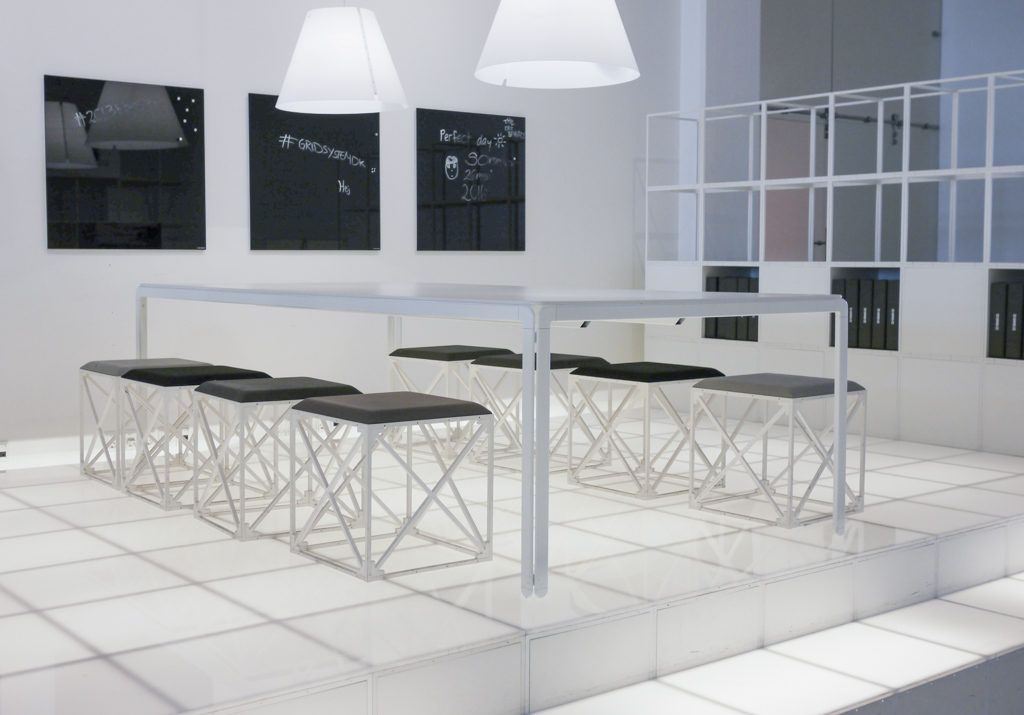 Not far from Pakhus 48, over at influential retailer and producer Paustian, Kvadrat showcase another collection, the third installment of an ongoing colaboration with designer Raf Simons.In stark contrast to the fineness and diminutive details of Minagawa's work, Raf Simons' collection is characterized by bright colors and bold stripes. It's a collection informed by pop-art with a modernist syntax. At Paustian the small showcase contain some original Paustian designs upholstered with the new fabrics as well as a textile "totem" by Patricia Urquiola. The main piece is however an reedition of Franco Albini's suspended armchair which served as a sort of conclusive inspiration of the collection.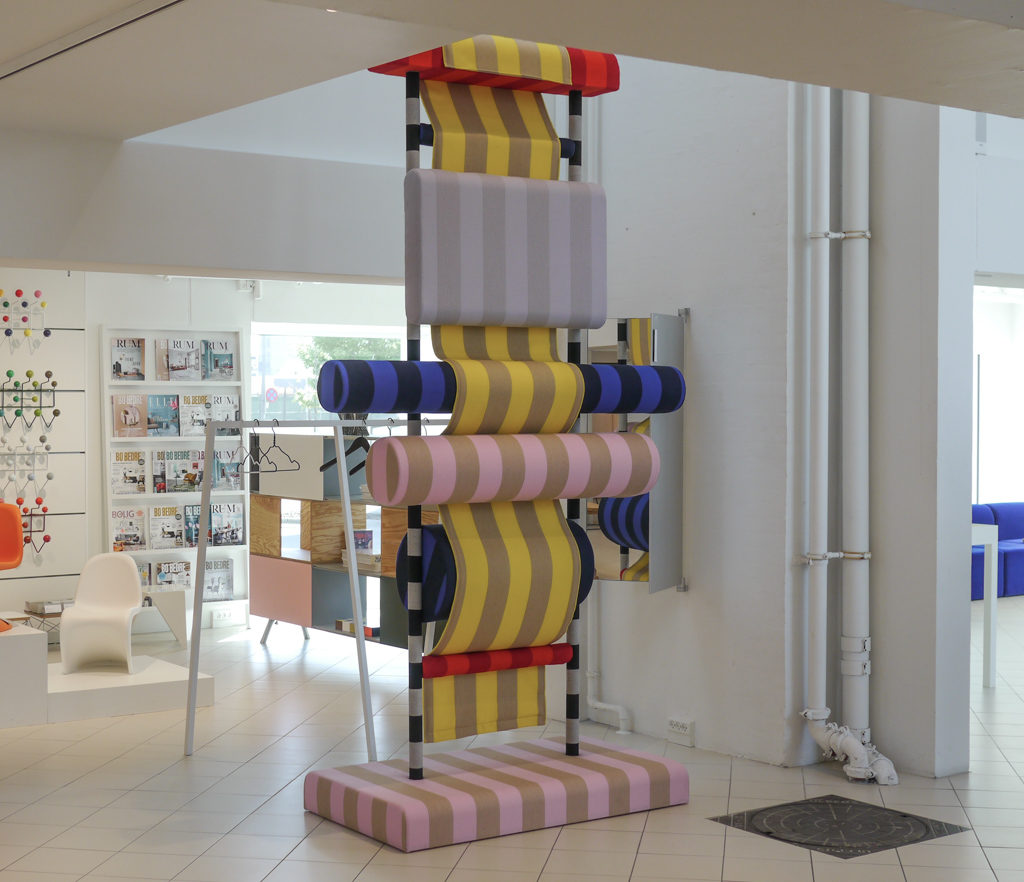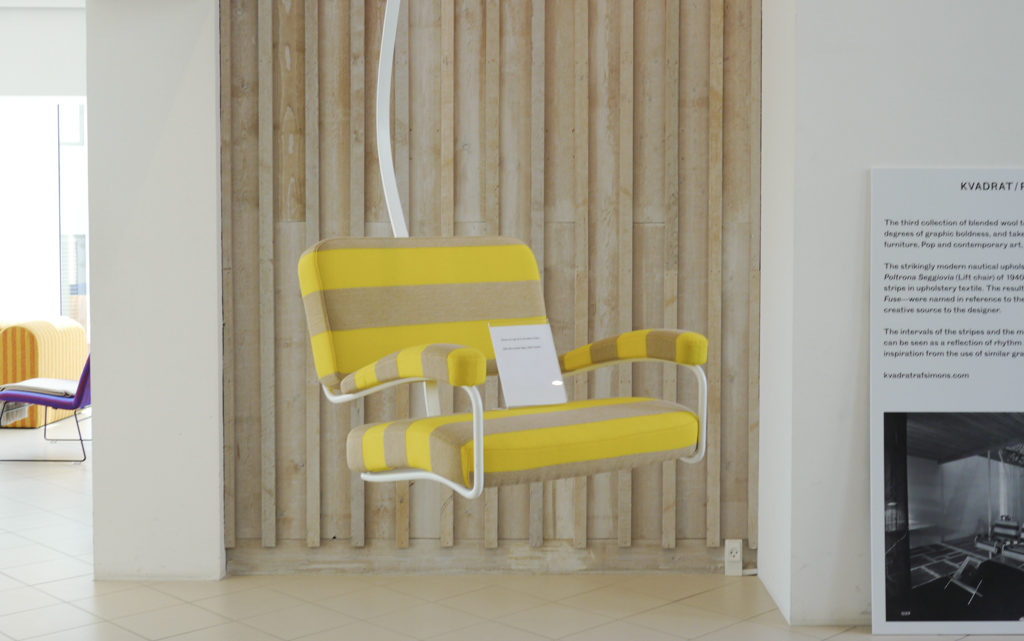 Further out in the harbour, where few developers has ventured, the landscape is still largely dominated by small and medium sized manufacturers of all kinds. Out here among weird workshops and shifty looking dudes is the location of Hal 4, a shared workshop space containing some of the most exciting projects of 3DoD. Now, Hal 4 isn't part of the official program but rather a zero budget parallel event that takes the opportunity to stage their own show. And although these kind of parallel events are signs of 3DoD gaining wider credibility, it's a pity that many visitors missed out on some of the most relevant projects showcased during these three days.
Jonas Edvard must be considered one of the most relevant designers in Scandinavia at the moment, applying his idiosyncratic design thought to unconventional materials and processes. Since graduating from KADK Edvard's work include the MYX lamp made up of plant fibers and mushroom mycelium and the Terroir chair with a shell made out of a seaweed and paper composite material. Showing during the 3DoD is a collection of charcoal vases which, in addition to some interesting material qualities, echoes some deep-rooted but unclear archaic significance. Sometimes-collaborator Nikolaj Steenfatt has an equally impressive portfolio and display a chair with a shell made out of hardened leather on a wood base. The seat is made out of a single "sheet" of non-industrial tanned leather and proves to be very hard and self supporting thus achieaving a similar construction as in fiberglass or acrylic shell chairs.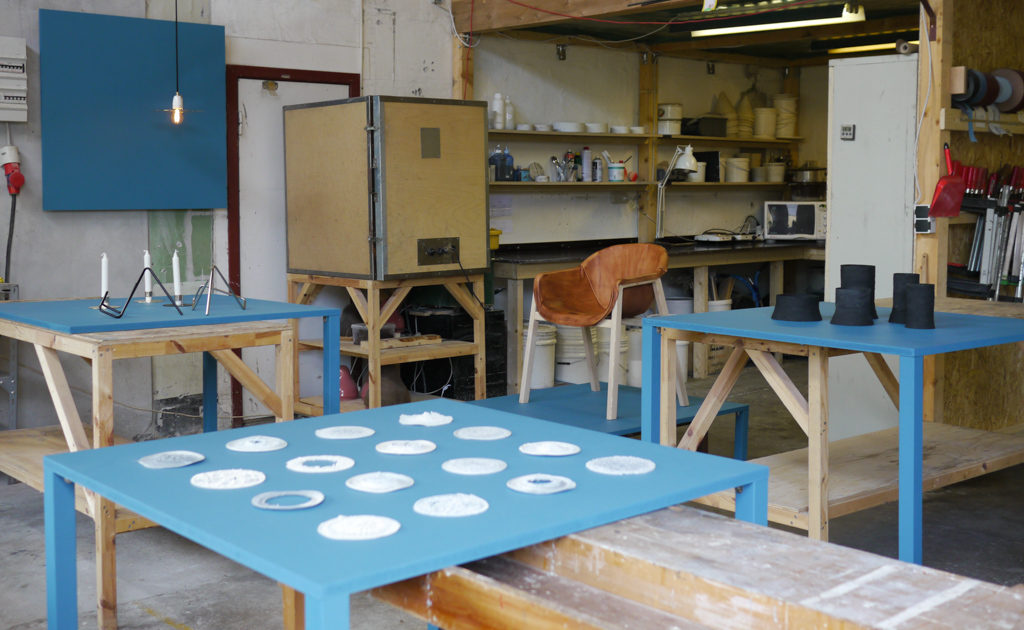 Another talent, Troels Flensted, has already a number of designs awards to his name such as DMY 2016 talent award, is chiefly concerned with material behaviour and properties. The Poured Bowls are testament to Flensted's design thought, cast by hand with a mix of mineral powder, acrylic polymer and pigment, each bowl has a unique pattern, an imprint of the process, expressing of the material's inherent properties. Next up is Ragna Mourtizen's diminutive porcelain works. These super thin 3D printed artefacts oscillate between digital perfection and material deficiency, repetition and difference, attempting to formulate a post-industrial design syntax. Out of the gang at HAL 4, Emil Rhode Hjort is perhaps the most straightforward designer whose works are available at bunch of places around the city including influential interior shop Stilleben.
3 Days of Design – Denmark's Golden Age
Elsewhere in the city, historic Rococo neighborhood of Frederiksstaden is not only the location of the residence of the royal family, it's also home to some of the most reputable dealers of Danish mid-century design such as Klassik, Jørgen L. Dalgaard and Bruun-Rasmussen Auctioneers. In addition to the already conspicuous affluence of the area, a number of flagship stores by iconic brands Rud Rasmussen and Carl Hansen has recently been established on the main thoroughfare Bredgade. It could even be argued that the distance from Klassik on the north end of Bredgade to the Designmusem at the south end, contain the highest geographical concentration of important Scandinavian mid-century pieces in the world open to the public.
A block away, at Frederiksgade 1, the showrooms have a more intimate atmosphere,  Getama and onecollection present the works of Hans J Wegner and Finn Juhl in domestic settings, model apartments combining mid-century ideas for living with contemporary ones. This could also be said of Frederiksgade 1 as a whole, with tenants such as the aforementioned and contemporary brands PWTBS, File Under Pop, &shufl and Vibeke Fonnesberg Schmidt the building is a microcosm of Danish design ideas of past and present.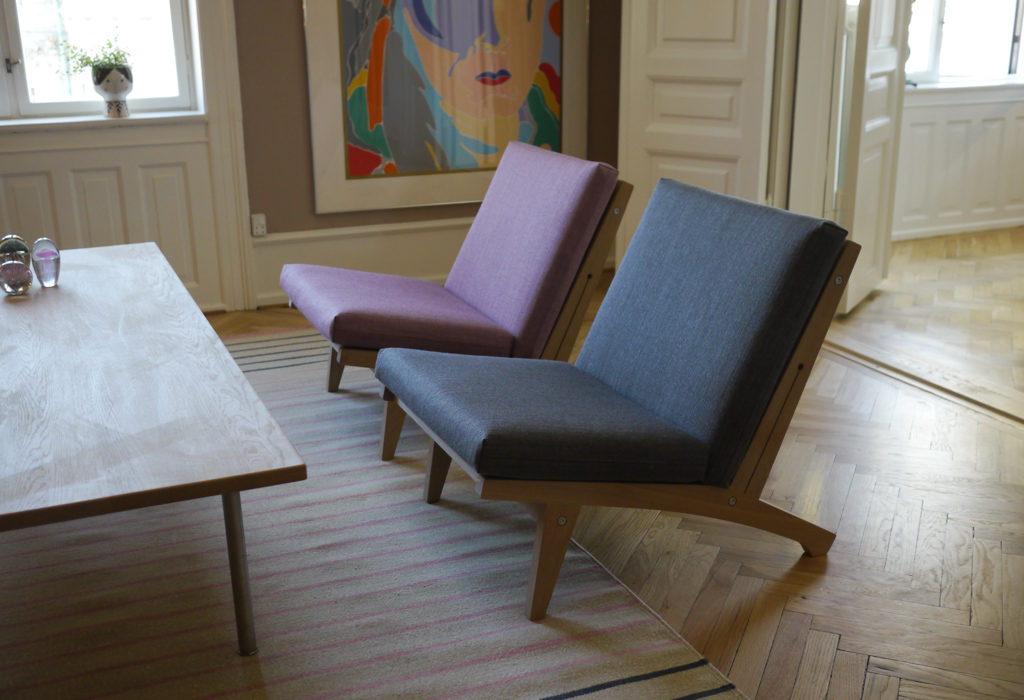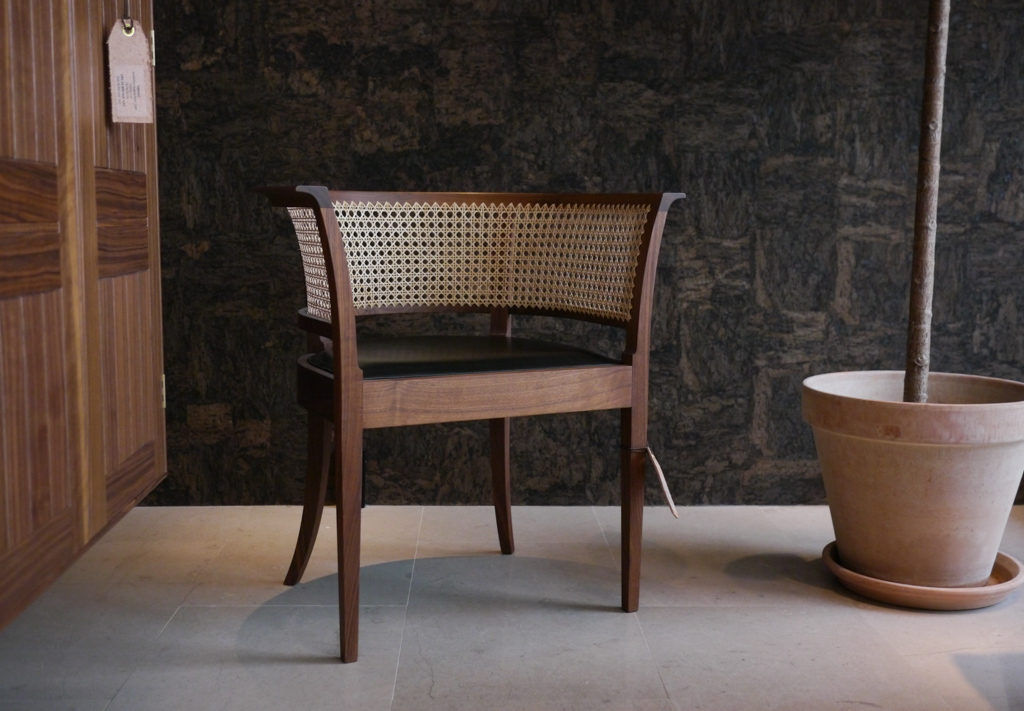 At Dinesens showroom apartment the setting is also domestic but the presentation anything but, Georg Jensen Damask, Republic of Fritz Hansen and Dinesen teamed up with Pernille Egeskov to create site a specific exhibition Hjem (Home). This is an installation type work consisting of associative and slightly surreal scenes based on everyday rituals and objects such as a giant ball of table cloth in the middle of a dining room.
Finally, one of the absolutely best exhibitions is possible the smallest, Art Stop co-curated by Superobject and items.nu. Art Stop presents contemporary Danish craft like Iben Høj's intricate textile works and Studio Elkeland's geometric mobiles, both of which in their own way infuse relevance and new ideas into contemporary craft.
/andreas t.