northmodern is quickly gaining recognition for being one of the most important events in Scandinavia for new Nordic brands and emerging designers to participate in.
Although northmodern takes its cues from all other trade shows in the history of the world, northmodern wants to set the bar just a little bit higher, curating the content a little bit stricter. And though volume 4 of northmodern feels a bit light in terms of quantity and the sheer numbers of exhibitors, the ambition is broad and range from renowned vintage dealer Klassik, to Toyota Mirari, Royal Danish Academy of Art, and Fredericia and everything in between. One other reason the event seems a little scaled down this time around might be because northmodern is gathering momentum for its transition into an annual event, stepping up to the big league of international fairs. In any case, northmodern has divided the prime real estate of the main exhibition floors between established brands such as Frederica, Paustian and Ferm and newcomers, creating a more diverse layout.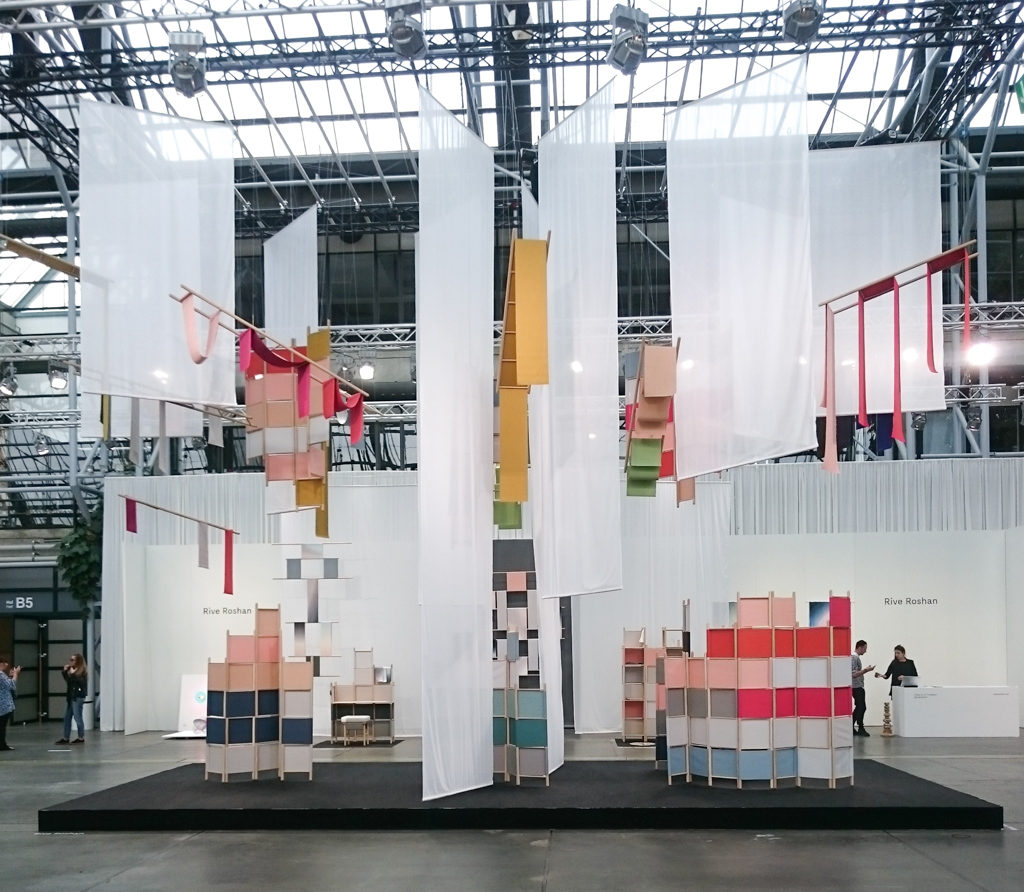 Outside the main exhibition floors northmodern has worked with both local and international partners to create relevant and current exhibitions. In the so called Crystal Hall, interdisciplinary design agency Rive Roshan has been commissioned to create a large scale textile installation using material from Kvadrat. Space Magazine has again been invited to create a highly subjective exhibition featuring items from Artek 2nd cycle, Galerie Maison Première, artist Tal R and Paustian among many other. Parisian 1.618 is another returning partner with a curated section of what they call sustainable luxury such as the otherworldly Alkar table by Romanian Materia.
First and foremost, northmodern is an event that keep tabs on the rapidly changing landscape of Danish design in particular and Nordic design in general. It's a place for observers to follow new tendencies and for new brands and talents to get noticed by a larger audience. This is particularly true for brands that attempts to move beyond the conventional Scandinavian design experience, such as New Works and MWA establishing a more individual design expressions and adopting more current business models. Copenhagen based Million is such brand, with a product range clearly derived from the modernist Scandinavian design tradition on the one hand and the New Nordic momentum on the other. Appealing as the products may be, it's undoubtedly the Cupola side table that Million will be associated with for a long time to come. The construction of the Cupola use a metal cylinder to connect the marble tabletop to the glass base. This instantly recognizable and equally counterintuitive construction gives the appearance of a stone monolith floating through space.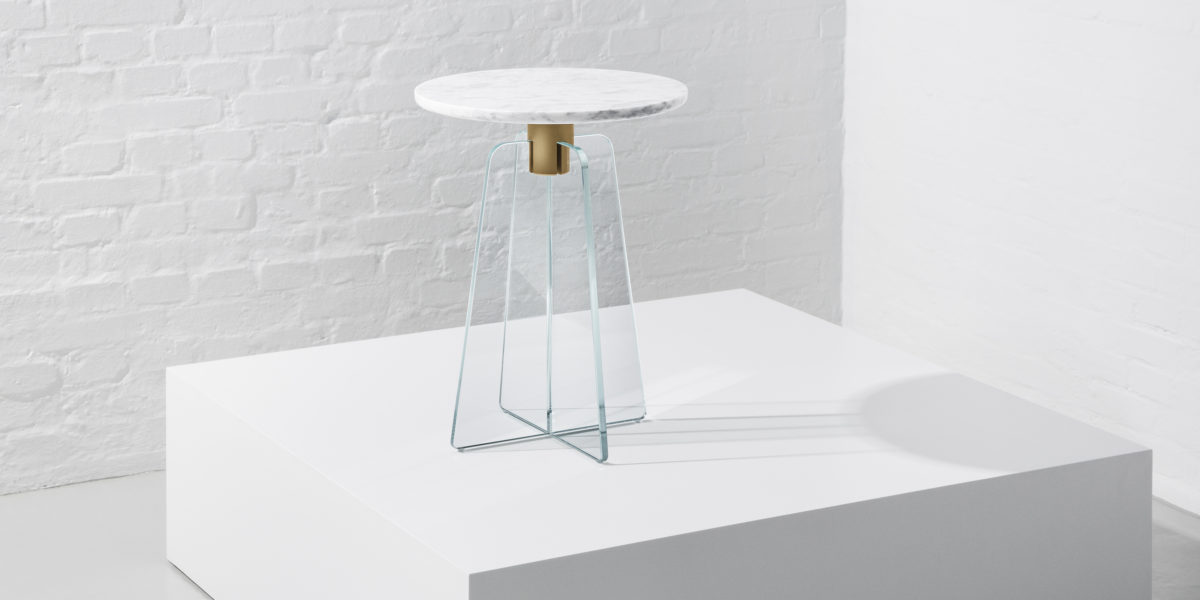 WOUD has become something of a new favorite for us, with their unusual design choices and collaborations with new creators and studios well beyond the nordic scene. Their latest launches, Mirror Box and Vowel shelf, only serves to reaffirm this commitment to new talent. Mirror Box is a collaboration with emerging supertalent Laura Bilde, who barely out of design school, has produced a number of highly prolific works such as the Rock lamp and a series of furniture with a stunning graphic expression for Kristina Dam Studio. The second item, Keisuke Kawase's Vowel shelf is a deceivingly simple modular shelf system consisting of only one type of module. But this module can be mounted in different ways thus creating different combinations and variations. We've actually come across Kawase's Vowel earlier this year at SFF but then as a prototype looking for a producer. Another piece we recognize from its prototype stage is Kristian Nørhave's KN71 we featured after the last northmodern. This slender oak furniture serves as either side table, flowerpot or storage has since we saw it last time been taken into production by Munk Collective under the name Grow Box.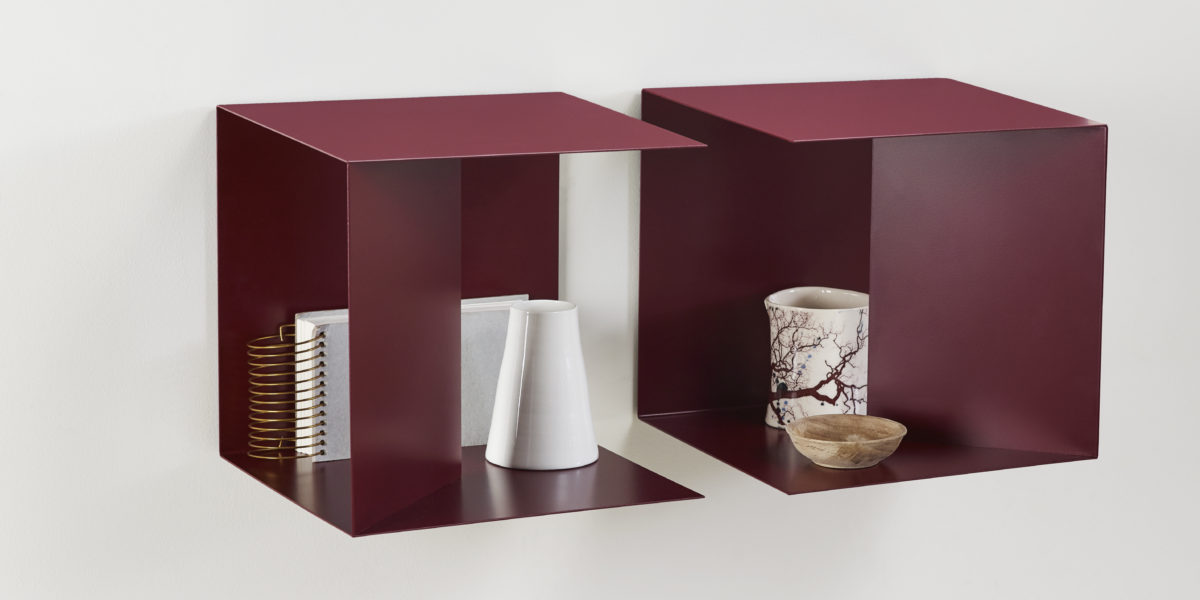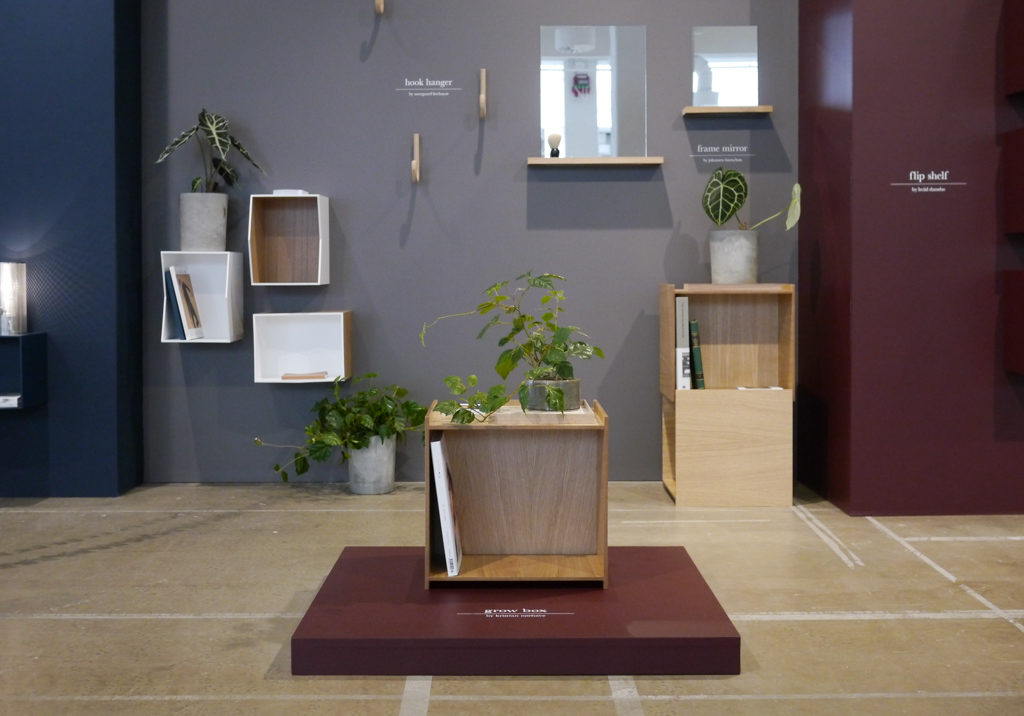 Many studios and brands have used northmodern as a launchpad and keep returning with new collections. One of those debutants is Saint Martin graduate Matias Moellenbach. Hisbrand new studio infuse craftsmanship with an understated simplicity. Moellenbach's desk lamp is made out of mouth blown opaline glass and constructed out of only two parts (excluding the wiring), a cylinder base connected to a shade shaped like a horizontally cut donut. This deceivingly simple design stems from Moellenbach's design ethos and understanding of materials.
Sixten::Erfurt, founded by Kasper Sixten and Frederik Erfurt, launched last year at northmodern with their first collection A New Unity. A collection distinguished by simple constructions and straight lines, using only combinations of steel, wood and leather. The central piece of A New Unity was the conspicuous MOON chair, a steel-base construction with wooden armrests and a suspended deep-blue leather seat. This time around the duo presents an updated version of the same construction, the LAVA chair, with a bright red leather seat and brass clad armrests. And brass is something of a theme in the new Beyond Collection, where the particular properties of the material are explored. Glow, for instance, is a full length floor mirror made out of highly polished brass that will oxidize and patinate with time, adding a sense of temporality and the passing of time to an otherwise inanimate object.
After first seeing Elkeland's work at northmodern we have come across her distinctive geometric mirrors and mobiles a couple of times now. And her fascination for symmetry and geometric constructions is again reflected in her latest work OVo-oVO. Inspired by the concept of palindromes OVo-oVO consists of two identical volumes that can be used as either a side table or a floor vase depending on which side goes up. Made out of sandcast aluminum this piece is very different from Elkeland's earlier works, but just the same it examines the categorization of form and function.

Artzul is an interior and furniture brad founded by wife and husband duo Charlotte and Christian Moe Halsted, architect and product developer respectively. And even though Artzul makes furniture and interiors the expression of their portfolio is definitely architectural as are the materials used, steel, marble and terrazzo. The proportions and volumes of the furnitures are like architecture on a miniature scale which is a quite different matter than architects making furniture. There is a certain formality and geometry that is not usually associated with Scandinavian or Nordic furniture design.
Perhaps the biggest favour northmodern has done to the local design community is the ongoing effort to invite some of the most interesting studios and designers from abroad. The Dutch presence has been particularly strong, a testament to the relevance of Dutch design, returning participants like Vij5, Ontverpduo and studio Thier&VanDaalen are this time accompanied by Tuomas Markunpoika. With just a few signature pieces like Engineering Temporality and Amalgamated Amsterdam based Markunpoika has gained some international recognition for his philosophical rather than analytical approach to design. These works are unusually thoughtful and contemplative as are the Refractile floor lamps at northmodern. The theme of this collection is the perception of matter and matter of perception examined through the refraction phenomena.
Studio Mieke Meijer is perhaps the most wellknown out of the gang, here present with a number of works informed by architecture and engineering rather than interior design. The Space Frames is a collection of pieces informed by classic architectural elements such as arches, columns and beams but executed in a sort of ideal form. The Airframe 01 cupboard on the other hand is inspired by early aviation technology and the engineering of it, is also the piece's defining aesthetic expression.
Finally Studio Ilio, made up by RCA graduates Seongil Choi and Fabio Hendry, is turning preconceived notions of materials and manufacture on their heads. With The Soft Side of Steel the duo experimented with steel fibers creating flexible steel objects, essentially a sort of steel textile, but it's Hot Wired Extensions that has gained the most attention. Made out of the immense amount of waste created by SLS 3D printing Ilio developed a process to create the soft but intricate organic shapes of this collection. By distributing heat through a wire model submerged in a container of the fine nylon based powder the creators are able to control the process by which the powder melts and bonds creating some truly spectacular pieces.
/andreas.t