Earth Matters curated by Li Edelkoort and Philip Fimmano is an exhibition dedicated to the new thoughts, practices and processes that are revitalizing craft and studio-based design today.
Environmental degradation and disrupted social fabric provides an ominous context for super-curator and trend oracle Li Edelkoort and Philip Fimmano's Material Matters exhibition at Artipelag, Stockholm. The sense of urgency is made clear within the very first paragraph of the curators' introduction: "the Earth is hurt and emptied /…/ [w]e have taken it all and it is still not enough; turning materials into waste that we give back to the Earth as poisonous byproduct and as an unresolved mass". Grim indeed, but it would be misrepresenting to simply characterize this as an exhibition based on social and environmental concerns. Earth Matters doesn't purport to provide definitive answers or large scale solutions to these issues, the exhibition is rather an broad attempt to reevaluate and reconsider the relationship of culture and nature through contemporary design, craft and art. And as such, Earth Matters constitute a proposition for a new discourse, based on the thoughts, practices and methods that are revitalizing studio-based design and craft today.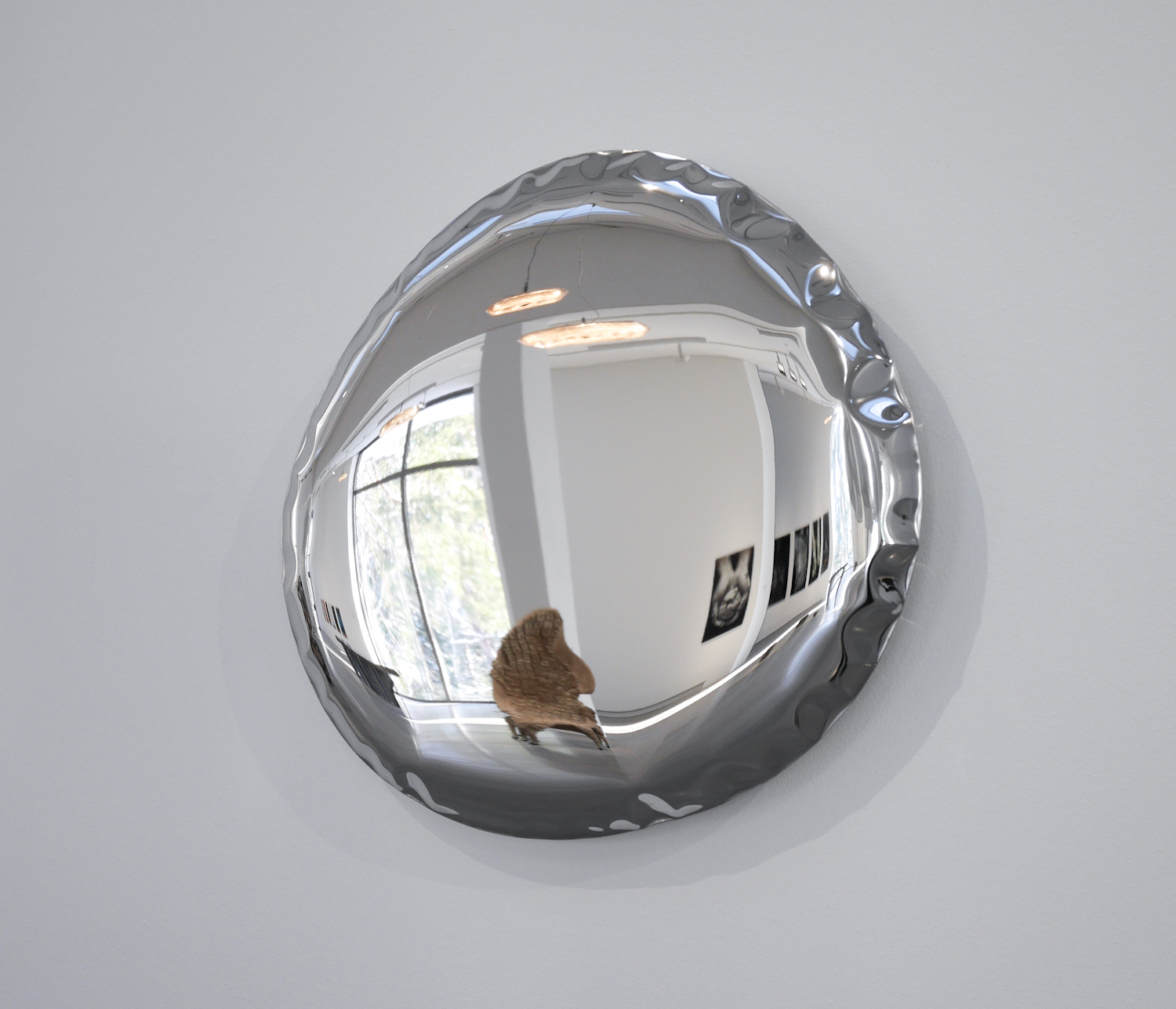 the works
 Although a majority of the participants may not be known to a wider Scandinavian audience there are several well-established names in the mix, like Lex Pott, Vivienne Westwood and Piet Eek Hein. On the other hand, the Mine Kafon, arguably the most well known object in the exhibition, is undoubtedly more known that it's designer Massoud Hassani. The already iconic Mine Kafon prototype is also one of few projects in the exhibition that directly address a specific set of problems being a "low-cost land mine detonator". At the other end of the spectrum there are conceptual works, closer to art or fiction like Eric Visser's sculpture, Christien Meindertsma's faceted wood objects or Nacho Carbonell's seating group.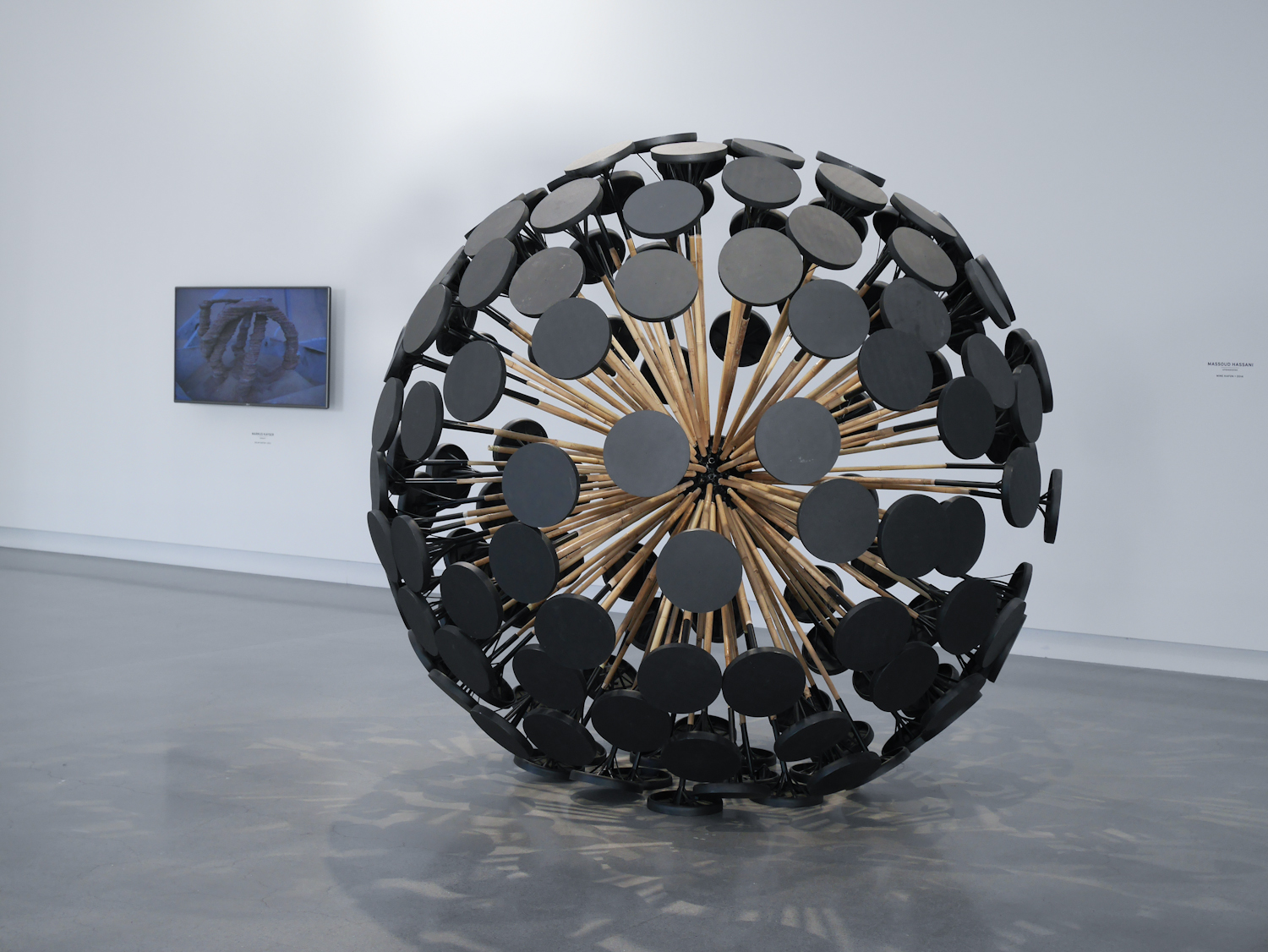 Some works are direct statements on ecological and social issues like the oddly primitive-looking lamps of late fashion designer Jurgen Lehl's, made out of colored plastic waste found on beaches around his house in Okinawa. Ryohei Kawanashi, another fashion designer, has taken a similar collage-oriented approach for his hauntingly post-apocalyptic garments, but Kawanishi's work contains a more explicit socio-political dimension. Hot & Cold by Fabrica (of Benneton Group) for Daikin, illustrate climate change with an ice block containing a flower melting over glass cylinder, each drop audibly resonating as it hits the water in the cylinder.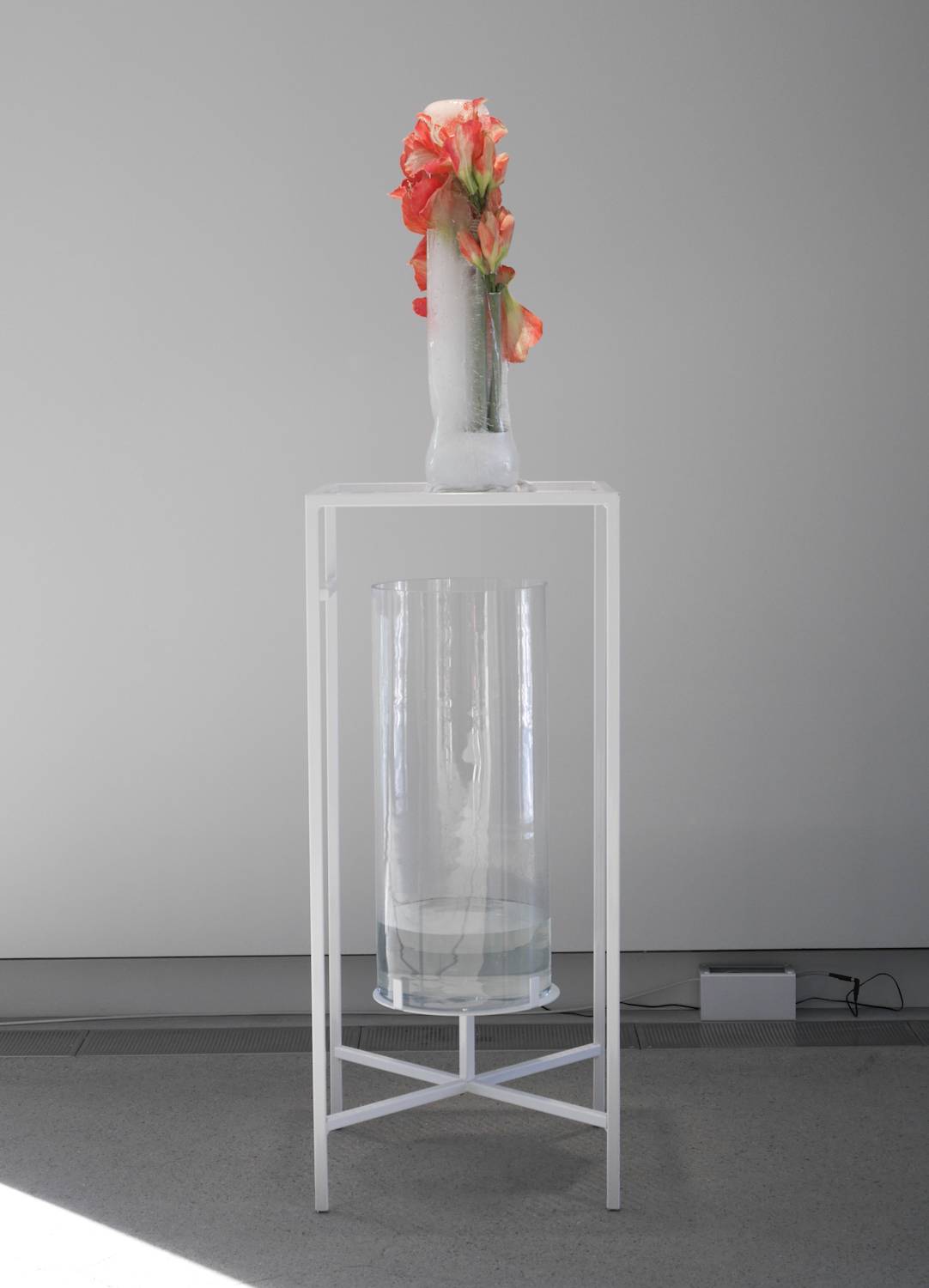 material nature
The core of Material Matters is made up of craft and studio works that challenge preconceived notions of design thinking, exploring unexpected processes and materials. Tomáš Libertíny's Honeycomb Vase and Marlene Hussoud's Propolis Vessels works are examples of a speculative approach to related natural resources. Libertíny's Honey Comb vase is made in "collaboration" with bee colonies and Hussoud's almost otherworldly, deep black vessels are made out of propolis, a material she found out, unexpectedly, have similar properties as glass. The vessels are in fact blown like glass in a process accommodated to the specific qualities of the propolis.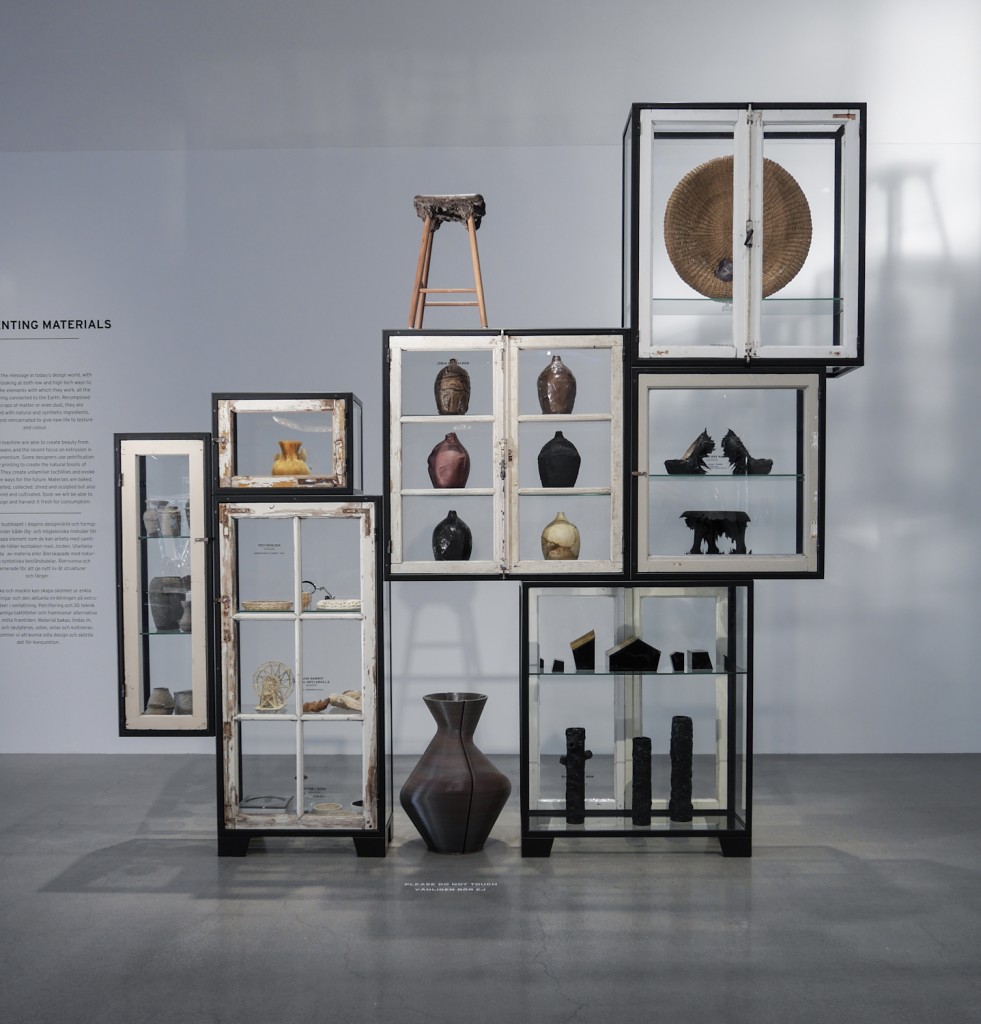 The Oki Naganode at first seems like a alien organism, a frozen giant with a thin translucent membrane. Julia Lohmann's installation is an exercise in the properties and possibilities of seaweed, but instead of suggesting potential or particular uses, the Oki Naganode is more of an invitation for conjecture and speculation. It does nonetheless seem oddly foreboding. Karin Auran Frankenstein examines adobe and its intrinsic connection to the human experience in her Cow dung chair, a piece that seems archaic and futuristic at the same time, perhaps a historical future that has existed or a past yet to come.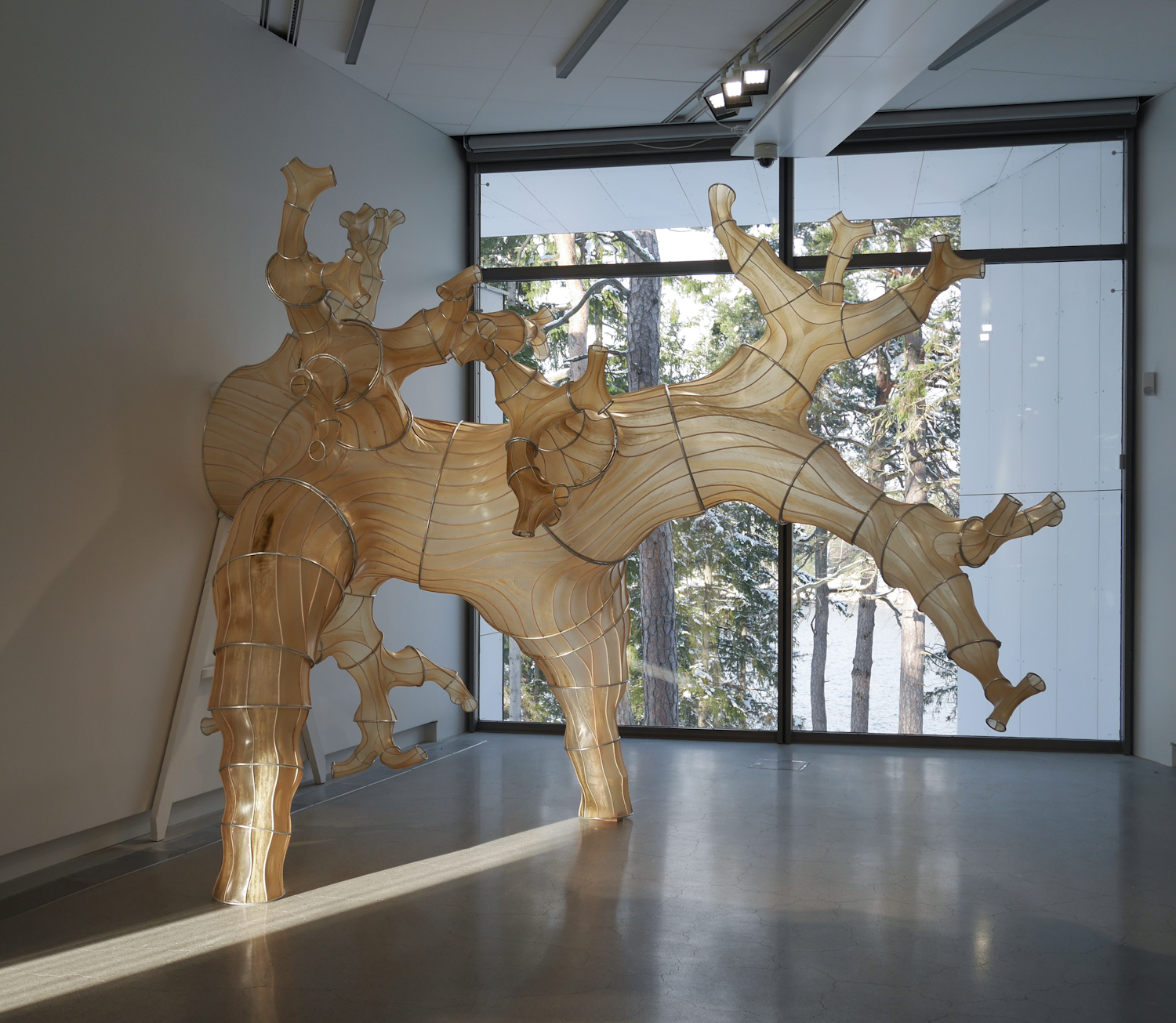 everyday objects
Marjan van Aubel's design practice is closer to daily life, combining artisanal methods with scientific curiosity. Her Well Proven Chair (in collaboration with James Shaw) is made out a lightweight and durable foam-like material made from recycled timber waste and a bio-resin. The chair's characteristic texture is a result of a chemical reaction that occurs when the timber reacts with the resin. Waste is also central to Dick vander Kooij, but for very different reasons, his reuse of synthetics and plastics is not motivated so much by ecological concerns as by a fascination for the particular aesthetic possibilities of synthetics. The geometric build of vander Kooij's Changing Vase seems to encapsulate both the aesthetic of vessels of early civilization as well as that of a digitized post industrial era. The Gravity Stool is also made out of plastics but the production process is fairly lo-tech and pretty straightforward. Designer Jolan van der Wiel manipulates a magnetic solution with magnetic fields in the purple built Gravity Tool, allowing the process to decide the final shape.
reserach, history & tradition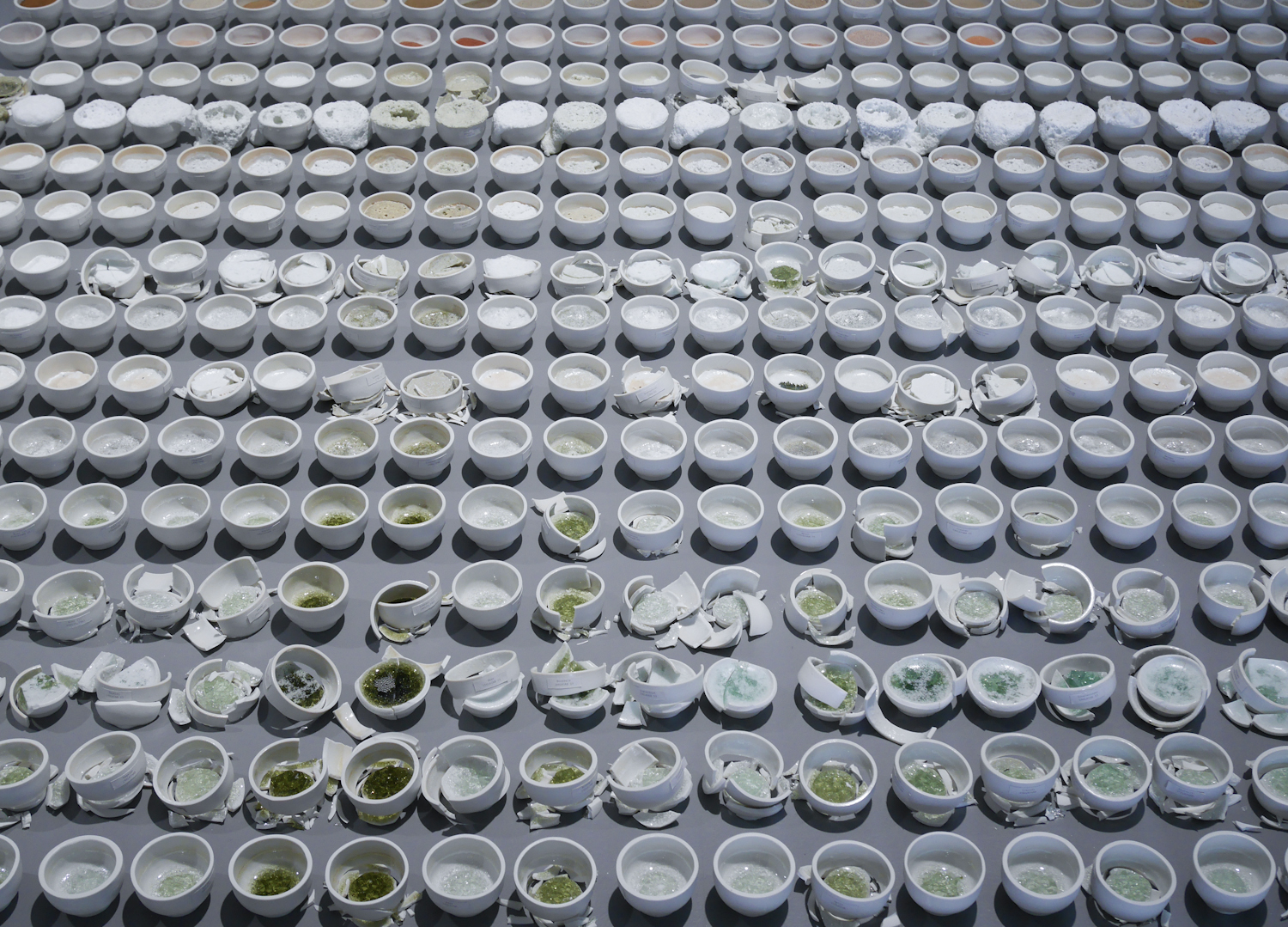 For Nadine Sterk and Lonny van Ryswyck of studio Atelier NL, the design process is used as a methodology to examine the cultural topography of different raw materials. In Sandbank several hundreds of small porcelain bowls are arranged in rows on a podium, each containing rough glass samples. The sand used to make the samples has been collected from sites linked to the Roman Empire making Sandbank a sort of historic and geographic index. Polder project takes a similar systematic approach to the cultural significance of soil. From over 2000 soil samples the studio made tiles that has been arranged as an geological index, but they also made tableware of the clay in reference to the cultural meaning of soil. Both of these project draws attention to the origin and diversity of common raw materials and can be seen as responses to a sort of monoculture of industrial mass production.
Formafantasma, the Eindhoven based italian duo Andrea Trimarchi & Simone Farresin that in so many ways incorporate the essence of this exhibition, are also known for their ambitious and idiosyncratic research oriented projects. Often working with specific materials, locations or concepts their projects usually result in collections of objects that explore not only the materials and processes in themselves but also history, tradition and fiction. De Natura Fosslium is a project exploring the volcanic culture of mount Etna and the properties of materials sourced after a recent eruption. The geometric basalt stool on display here is only one of many objects to emerge from this project, which include a obsidian mirrors, mouth blown lava glass and textiles with volcanic fibers wove into them. The Botanica project is an example of speculative design, or perhaps more correctly, design based on a speculative narrative. It is a what-if scenario imaging a scenario where the modern petroleum based era never took place and instead the project investigates alternative natural polymers. Formafantasma's research turned to 18th and 19th century sources, creating an alchemical collection of vessels that combines contemporary form with forgotten, mysterious materials.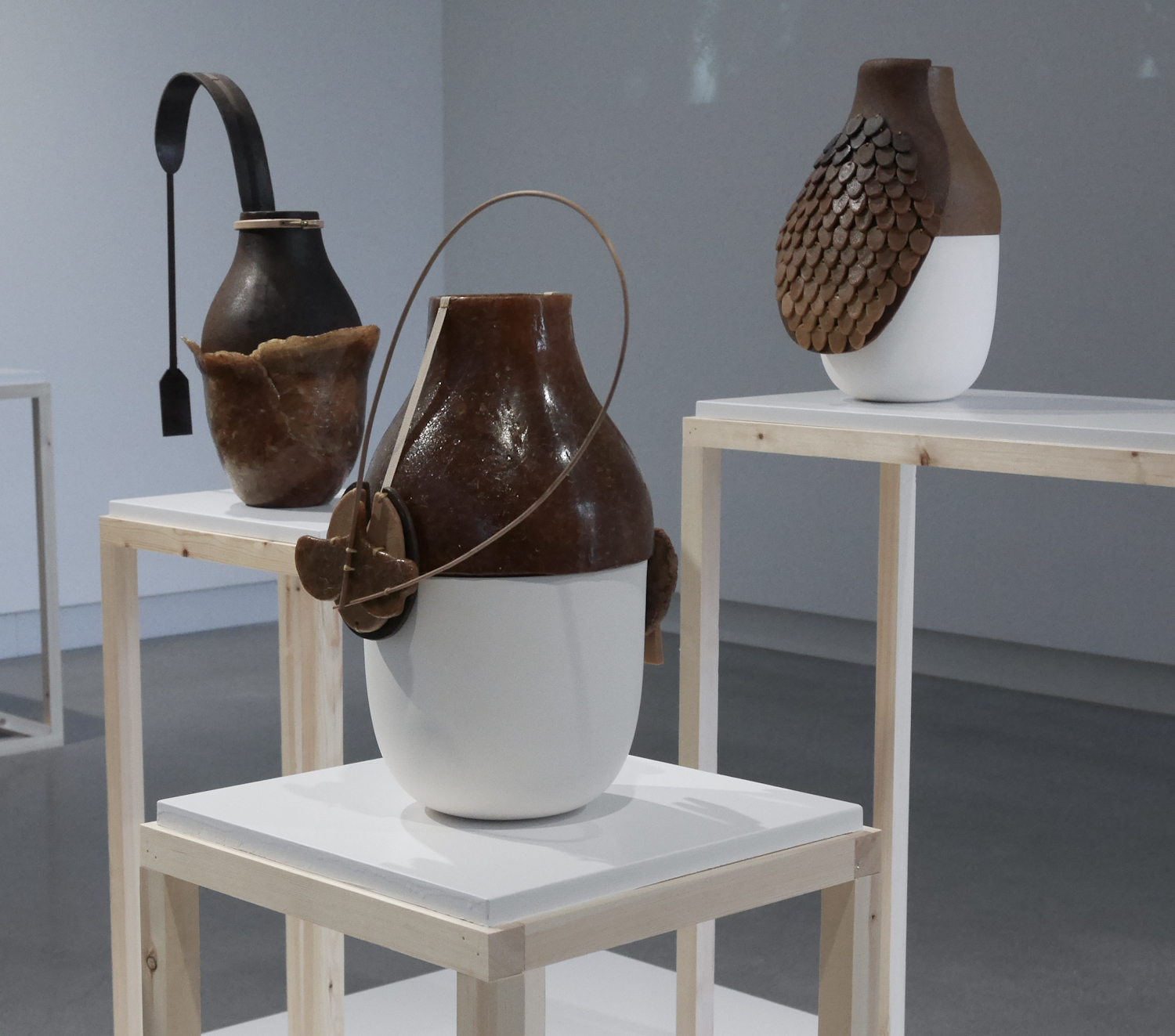 Leather is the point of departure for the Craftica collection commissioned by Fendi, another project resulting in a variety of objects such as tableware, lightning and furniture. The Perch stool and the Sponge stool both seem inconspicuous enough but are partly covered with tanned salmon leather. The tableware, on the other hand, seems like something out of Fantastic Planet, made out of seashells with tanned leather handles (salmon and cow).  A less conceptual project is Charcoal, which simply consists of water purifiers made from a slow burning charcoal pile along with documentation of the process, made in collaboration with Vitra Design Museum.
end note/a new paradigm
During the last year or so we've been to a number of design exhibitions committed to social and/or environmental themes, some of the works like the Mine Kafon (this being third time we've come across it in less than a year!), Oskar Zieta, and Sandbank were also shown at some of these exhibitions. But Earth Matters is a more specific expression of a discourse manifest in today's studio design and craft that attempts to reexamine and deconstruct some lingering aspects of modernism in the current system of production. It's the possibility of new paradigm as the exhibition would have it. In this form, the origins of this discourse could arguably be traced to the Netherlands and studios like Droog and institutions like Creative Industries Fund NL and DAE (where Li Edelkoort served as director 1998-2008). Here in Scandinavia these practices has perhaps not been as recognizable as elsewhere and for this reason its worth considering the historical importance of the modern for Scandinavian design in general and Swedish design in particular. However, if Earth Matters is part of the larger paradigm shift it predicts, remains to be seen.