It's business as usual at Stockholm Furniture Fair the uncontested main event of Scandinavian and Nordic design, with some 700 exhibitors meeting and greeting 40.000 visitors during the five day fair. Launches and releases, talks and lectures, exhibitions and awards and more of the same.
The vast floor space at Stockholm International Fair Center is divided between iconic Scandinavian manufacturers such as Fritz Hansen, Artek, and Carl Hansen, office/contract oriented producers such as Horreds, Abstracta and Materia and New Nordic brands such as Hay, Normann Copenhagen and Muuto. And although these branches of the industry face different sets of challenges, the common denominator is a shared commitment towards developing sustainable practices and CSR.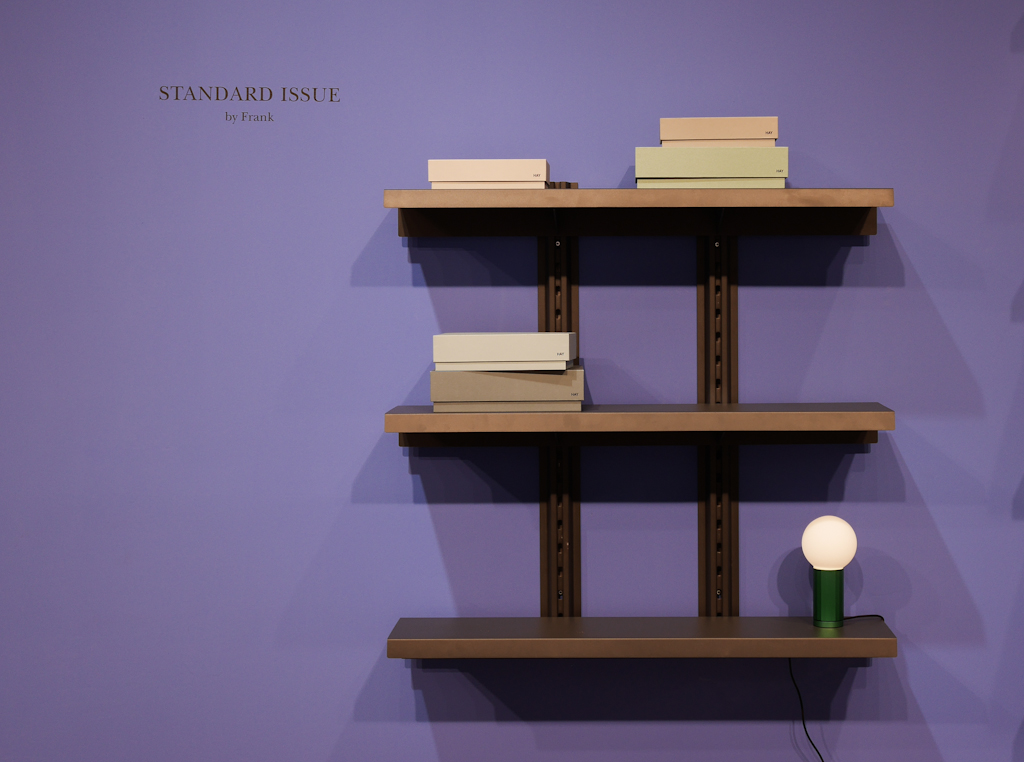 For the classic Scandi brands, deeply rooted in tradition and committed to craftsmanship, one key challenge is to stay relevant and seamlessly integrate new designs into their product range. Jamie Hayon's work for Fritz Hansen is one such case where new pieces have been incorporated in a firmly established design tradition. On the flip-side, the same iconic brands has to adapt manufacture processes of exiting and/or re-issued designs to make them market viable without tampering with the design's DNA. Case in point: Carl Hansen's resurrection of Hans J Wegner's CH22 for this year's event. Another case is Frederica that has been particularly successful at integrating new designs in their product range. Having been strongly associated with the aesthetic ethics of Børge Mogensen's shaker inspired furnitures, Fredericia are now working with designers such as GamFratesi and Henrik Vibskov of Copenhagen's fashion scene. The new works brought to SFF2016 include a daybed by Space Copenhagen and a set of supernormal side tables in oak by Jasper Morrison, are very much in line with Frederica's style but perhaps less radical than the works of  GamFratesi and Vibskov.
The challenges facing the office and contract markets are perhaps more complex as these manufacturers are adjusting to profound changes in the nature of the office/workplace. In Scandinavia many producers has been particularly invested in acoustics and acoustic products. For instance Baux, a VC joint venture with design studio Form Us With Love is just one of many projects that has infused this rather technological field with a contemporary graphic expression and a more engaging human scale.
Bolon is sort of a mix of all of the above, a tech-oriented flooring firm with a heritage, focusing on sustainability and innovation. Bolon's display at SFF2016 with pieces by Doshi Levien is like an oddly haunting version of 2016 as it could have been portrayed in a 80's or early 90's sci-fi flick. Unfortunately a version of the present that has yet to materialized in everyday life.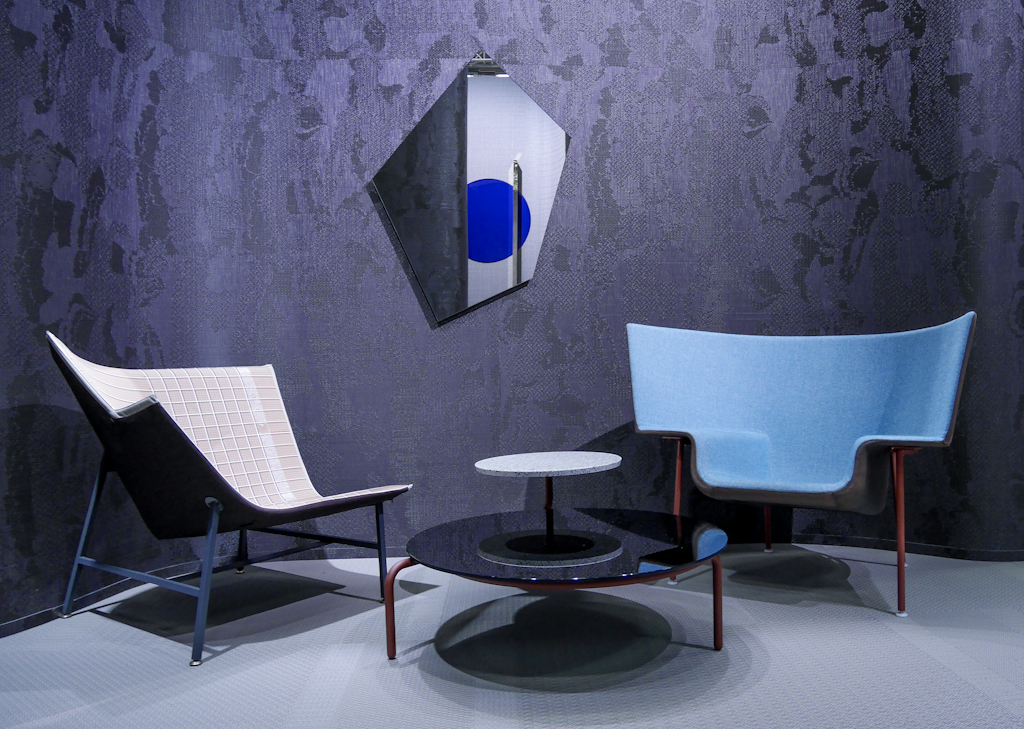 new nordic
Admittedly, Scandi producers has not a reputation of being on the forefront of game-changing design but has definitely again gained international relevance in the last decade or so with Hay, Muuto, Norman Copenhagen, &tradition, Menu in collaboration with Form Us With Love, Note Design Studio, Staffan Holm, Jens Fager, Jonas Wagell, Thomas Bentzen, Anderssen & Voll and many many more.  In one sense the brands and producers represent an extension of a modernist Scandinavian legacy not only in style and aesthetics, but also to some degree in the focus on affordability and sustainability. But they are also more playful, less stringent and less concerned with the strictly vernacular.
A particular favorite of this year is Menu's Godot sofa and armchair, designed by always relevant studio Iskos-Berlin. The piece contain many points of reference but the expression is unique, quintessential Iskos-Berlin work.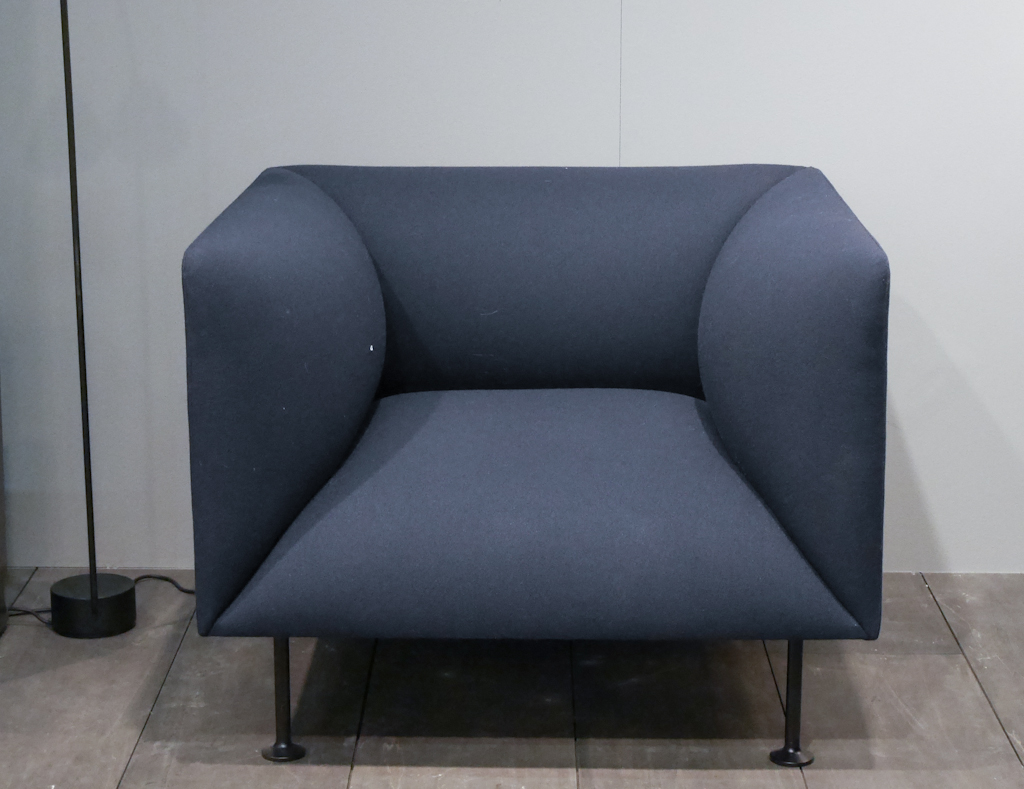 Though working with some of the best and brightest designers today some companies maintain a production of classic designs. GUBI in particular has developed this strategy with a portfolio ranging from GamFratesi and Sebastian Herkener to re-editions of Greta Magnusson Grossman and Mathieu Matégot. For SFF2016 GUBI brings back to life Multi Lite by Louis Weisdorf, a quite complicated pendant with several rotating shades allowing the user to adjust and direct the light. Similar to GUBI, &tradition produce Verner Panton pendants while working with Luca Nichetto, All the Way to Paris and Jamie Hayon. The most recent addition to Jamie Hayon's Palette collection, the Palette Desk JH9 is a kidney shaped writing desk mixing wood, steel and stone as well colors.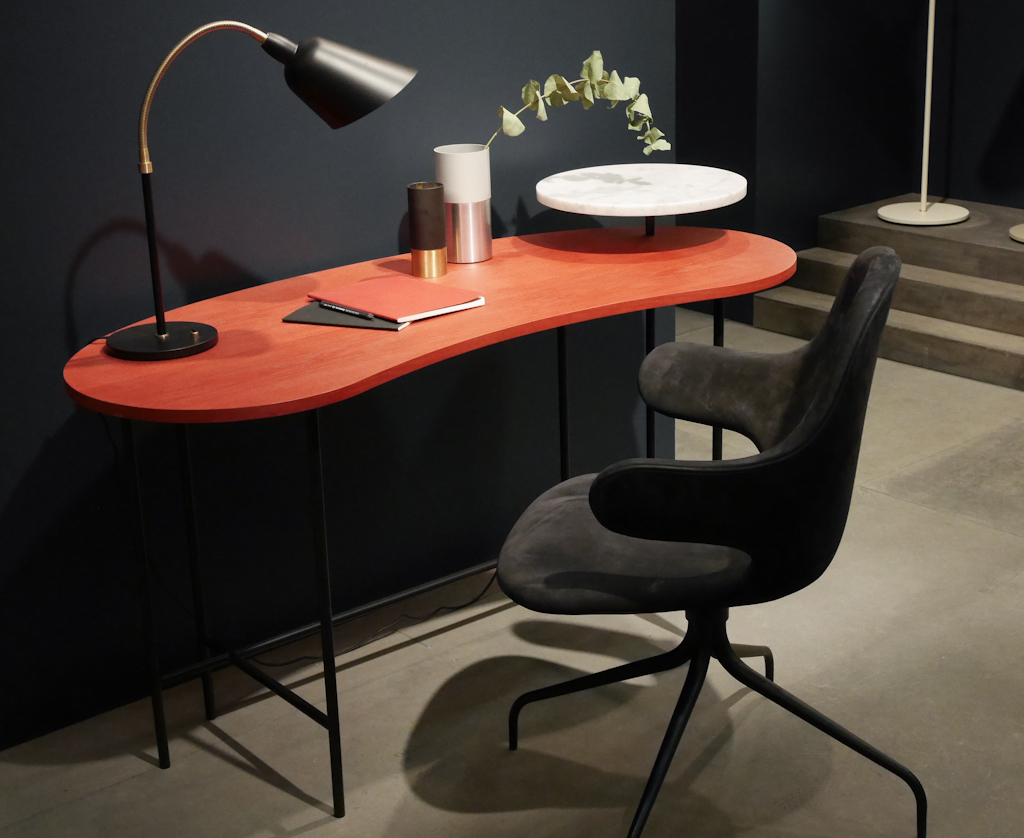 current affairs
Since the New Nordic Design momentum has come into its own, the local context has splintered into many new directions – studios, brands and galleries like FRAMA, New Works, Friends & Founders, Tingest, Please Wait to Be Seated just to mention a few of those present at SFF2016. Emerging designers in collaboration with small and medium sized brands or studio production has definitely contributed to a more diversified and experimental atmosphere. New Works that just dropped David Derksen's Morie lamp on us a few weeks ago at northmodern now unveils Rise and Shine, a wall mounted mirror with a counter balance system and a visual expression that is reminiscent of a constructivist sculpture. Behind the design is studio Hunting & Narud. Also PWTBS continue to impress with unexpected designs, here with a new lamp by Mette Schelde, the Planet table lamp is a fairly simple but well balanced powder coated table lamp operated by turning the central disk that also functions as diffuser.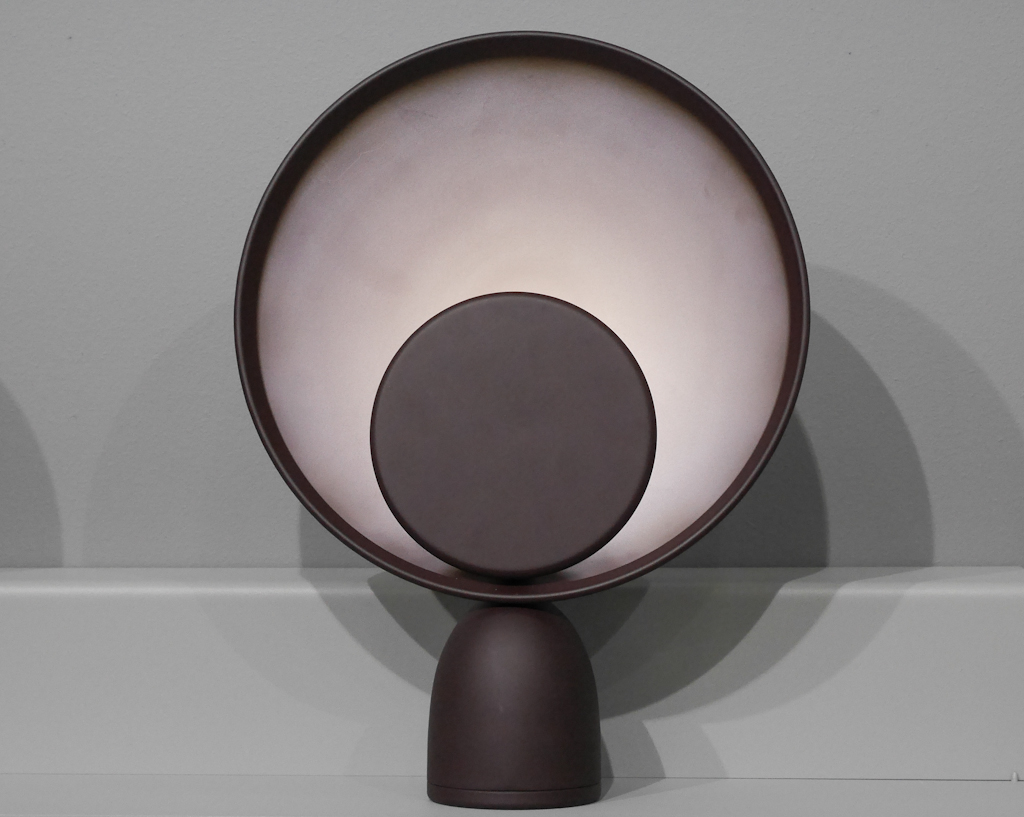 The small label Tingest founded by product designer Alexander Lervik in 2013, has brought together works by some of the most relevant Swedish designers today including Färg & Blanche, Broberg & Ridderstråle and FolkForm. But the 2016 is all Lervik, the Dimma (trans. Fog) chair and table are made in blue powder coated steel but have a soft and light expression due to the perforated pattern and rounded profile. The perforated pattern is in fact the overarching theme of this years collection and it's repeated in the Mikrofon pendant and Bikupa (trans. Beehive) quartz wristwatch.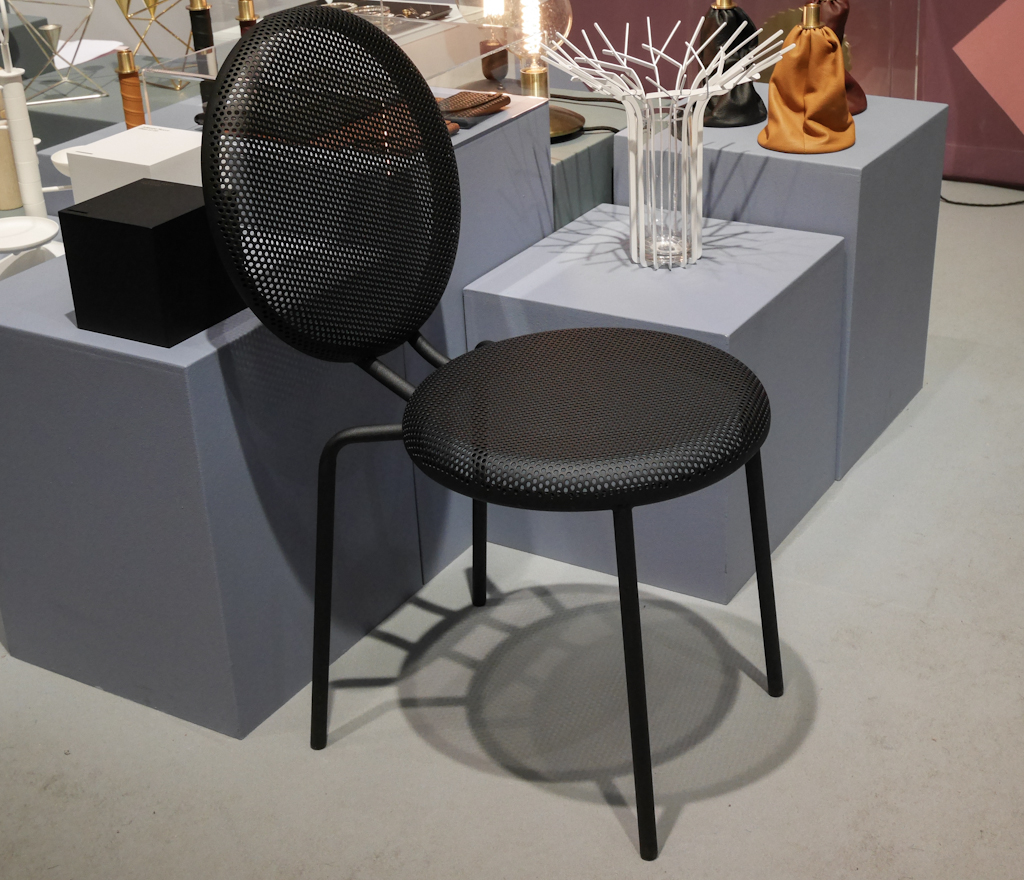 The collaboration between Hüseyin Tugut's Lightwork and Stockholm based Saša Antic is also noteworthy and has gained attention, not least for it's Elle Decor award. The collection is a color coordinate series of table and wall lamps in a sort of retro nostalgic style.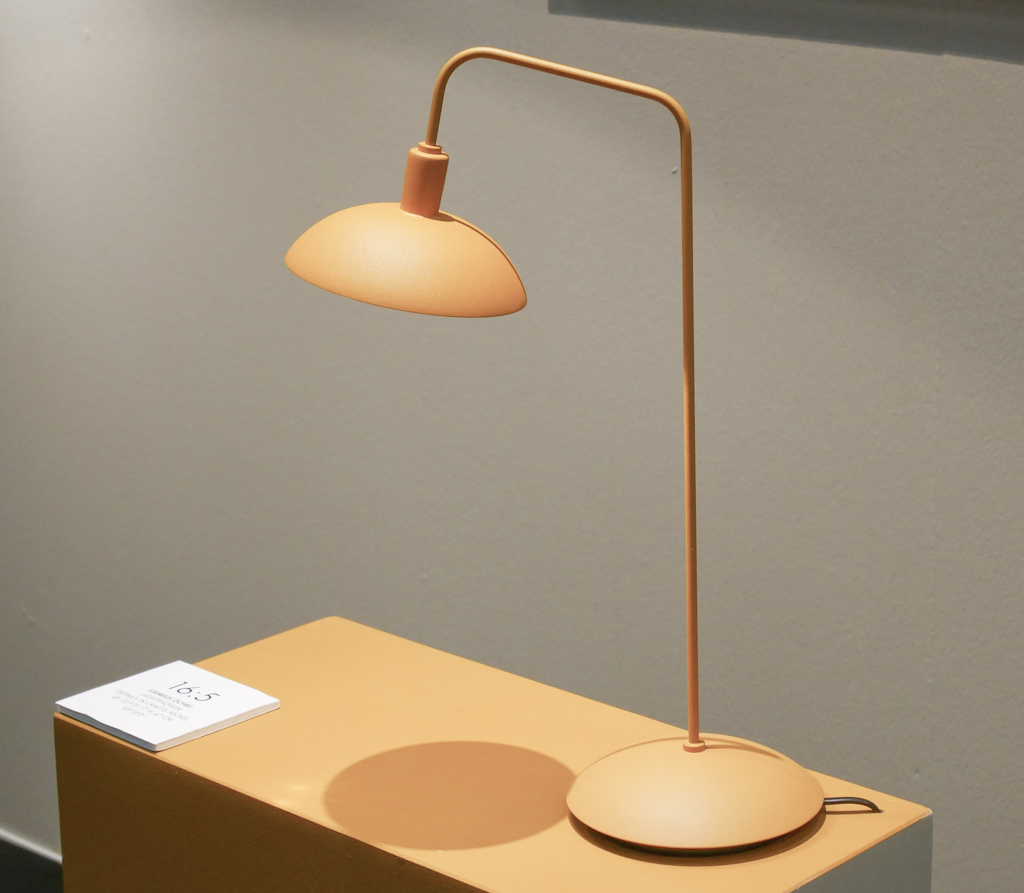 designers
The poster names of the Nordic scene has been keeping busy, particularly CKR launching products with David Design, Skandiform, Zero, Skultuna and Nikari not to mention their work with own label Smaller Objects. Veterans Mats Theselius and Jonas Bohlin both dropped a bunch of new works on the audience, Theselius for longtime collaborator Källemo and Bohlin for bentwood maker Gemla. After last years award for the w153 lamp, Inga Sempé and Wästberg unveiled their most recent work – w163, a table lamp in opaline glass with a very robust expression. However this year it's Dirk Winkel's w164 Alto floor lamp for Wästberg that takes home the Editors Choice award for best product.  Broberg & Ridderstråle, the studio behind Tati, one of Asplund's most recognizable product lines. The duo has certainly been busy this year collaborating with innovative outdoor furnishing producer Nola and aforementioned Asplund among others. For Nola they have developed Pivot an outdoor table with integrated asymmetrical seating inspired by planets orbiting the sun.
Duo Färg & Blanche known for their unorthodox approach to furniture design premiered Julius sofa and armchair for producer Gärsnäs. Julius is the first market ready product to come out of the duo's Wood Tailoring project that previously mainly included gallery editions and limited series like Layer armchair and Dark Layer cupboard among other. Simply put Wood Tailoring is what it sounds like, using sewing techniques to connect wood, textile and upholstery. With Julius the backrest is hence stitched together directly with the fabric on the opposite side. It's deceivingly simple, and in fact the technique has taken a few years to develop we where told by the duo at SFF2015. Now, Färg & Blanche often incorporate textiles, anthropomorphic elements or ideas from fashion (like the Frankie collection over at Johanson Design) into their furniture and Wood Tailoring is an extension of their modus operandi. There are also environmental benefits form using sewing instead of toxic glues and so this technique could possibly be adapted in other fields. Remaining for a moment with Gärsnäs and David Ericsson's Hedwig easy chair, a piece that in many ways is a homage to the finer furniture making traditions of Sweden. Proving himself last year with the Madonna chair, Hedwig is definite proof if there ever was any doubt of Ericsson's heightened sense for working with wood.
Note Design Studio tap into another vein of Nordic traditions with "inverted" blond bentwood arches for Fogia, the bookshelf Arch echoes the minimalist and organic modernism of the last decade. Also for Fogia the chair Figurine seems to spring from a yearning for something rustic but with the contemporary characteristics of the studio.