Greenhouse is a section reserved for emerging talents, small studios and students and as usual it house the by far most worthwhile exhibitions.
Admittedly Scandinavia hasn't been a hot destination for disruptive or innovative design for a long time . Reliable designs, stringent forms with some degree of green thinking are staples of the industry here, with little room for the flamboyant or divergent. This feels as true as ever at this year's Stockholm Furniture Fairwhere the lows are not that low and the highs not that high, it's all good, just not that great, with the exception of Greenhouse.
Greenhouse is the section for emerging talents, small studios and student exhibitions and as usual contain the by far most worthwhile exhibits. Essentially only a small satellite to the main fair – the Greenhouse always deliver lots of ideas and content into a, by comparison, very small space. Form Us With Love are responsible for the setting this year and incorporate data aggregated elements into their design for the Greenhouse cafe.
schooled 
The Greenhouse is a panorama of projects and ideas from within the walls of some the most prestigious design and craft schools of Scandinavia such as Konstfack, Beckmans, KADK, Malmsten, Aalto U and KHiB to name a few. The exhibits range from the speculative to the utilitarian, the formalistic to the weird, the conceptual to traditional cabinet making.
Institutions such as LTH has for a long time as part of their curriculum encouraged students to engage with sustainability and environmental issues with a sense of urgency . This year a new agenda is taking form in response to the ongoing migration and refuge crisis caused by war and socio-economical disfranchisement. As graduation shows will start to roll out in spring and early summer we are sure to see more socially engaged projects and possibly more activist oriented graduation pieces. Bringing such projects to a SFF makes the walls to an increasingly volatile exterior world, feel thinner than ever.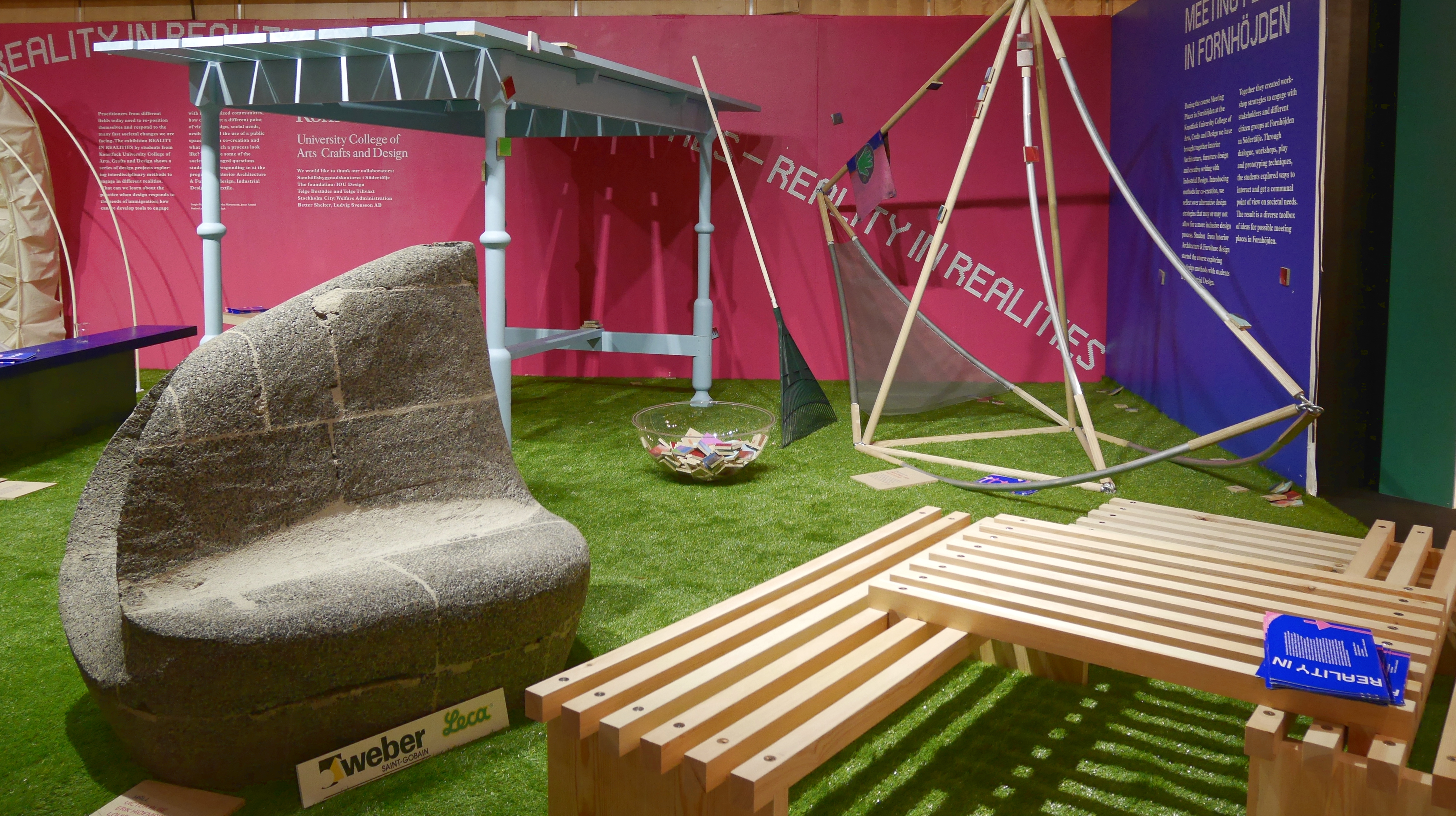 Konstfack's previous contributions to Greenhouse has arguably been more esoteric and conceptual than this year's double exhibition Reality in  Realities. This two-part presentation shows students from different departments engaging in interdisciplinary responses to complex and traumatic real-world issues. The first part takes its point of departure in the ongoing migration and refugee crisis focusing on the most basic of structures, the Shelter.  The second part, Meeting Places is a site-specific project that explore various models for collaborative design in an effort to address issues of segregation and alienation. The site is Fornhöjden a housing project built in the 1970's and the brief was to engage local stakeholders and inhabitants in constructing outdoor meeting points. From this common point of departure the projects came to very different conclusions ranging from Leo Eklund's Shared Table, a multi-use pavilion in the shape of a over-sized table to Häll, an organically shaped fireplace and bench combined by Victor Alge, Erik Hidemark and Lovisa Stockman.
In Analogue Ways master students of Lund University School of Industrial Designlook to the past for ideas and practices for a more sustainable future. Assuming that forthcoming technologies might not solve all of our environmental problems, or at least not coming up with solutions fast enough, Analogue Ways' purpose is to reclaim forgotten or overlooked knowledge, re-framing old ideas for a fragile present and a more sustainable future. Yao Buyue has updated the abacus to make the system more customizable  and universal, Agnes Sjöberg's system of glass bowls are intended to keep vegetables visible on the countertop instead forgetting them in the fridge and May Kukula's Hot Pot is a simple device to preserve energy while cooking. Hot Pot is a cork container in which a hot cast iron casserole is placed, the insulating properties of the cork keeps the food simmering and slow cooking until ready. Kukula said that Hot Pot is inspired by the German "kochkiste" aka haybox, a fairly recent invention dating back a hundred years or so, but adapted to a modern context.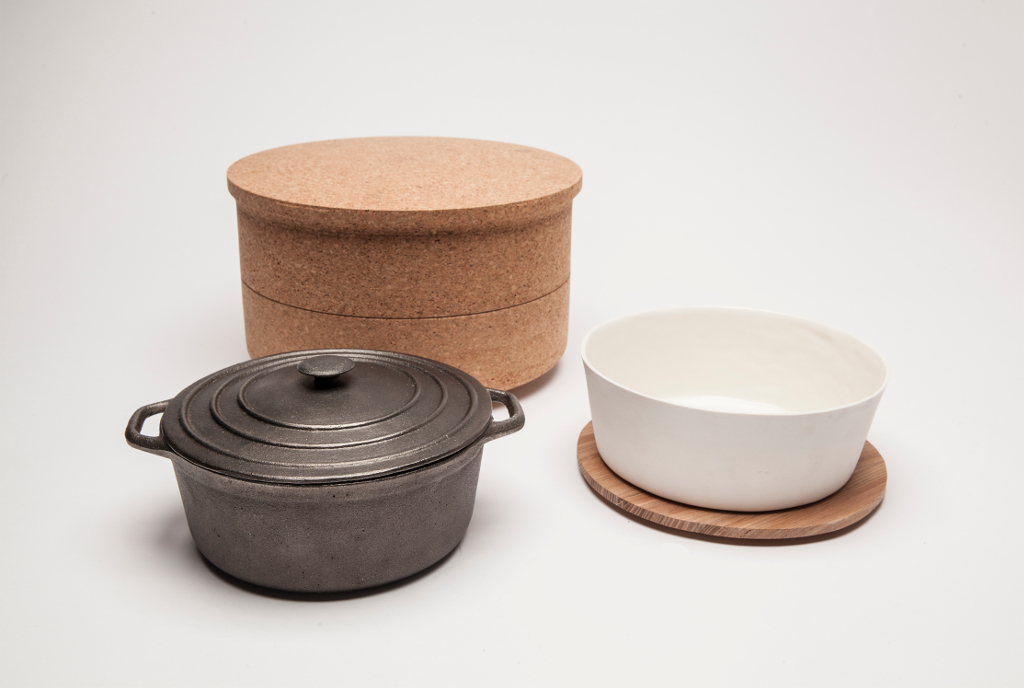 Last year HDK put on one of the most captivating student shows, this year the show Stories by the Water is of a completely different nature but is arguably again one of the most worthwhile at Greenhouse. For this project master and bachelor students each chose a site along the Dalsland Canal to use as a starting point. Matz Engdahl's Funt is an decidedly odd piece with an understated design, an baptismal font made out of jesmonite, cast directly into a hole in the ground outside a chruch. Through this process Engdahl inserts his project quite literally  into the manufacturing and cultural tradition of the place. Breaking Surface by Sophie Hardy also use the history of local industry for inspiration, in her case it's the paper mills. Sandwiched between two layers of veneer Hardy has inserted several layers of colored papers creating a decorative band around the edge of the table. Jonathan Appelfeldt had a very specific image in mind for his cabinet Marbelous – an iron hook, once used by ships to anchor, embedded in a pink granite rock. This freestanding cabinet is constructed out of two bent, hooklike, plywood sheets marbleized on the exterior side with a technique traditionally used by bookbinders.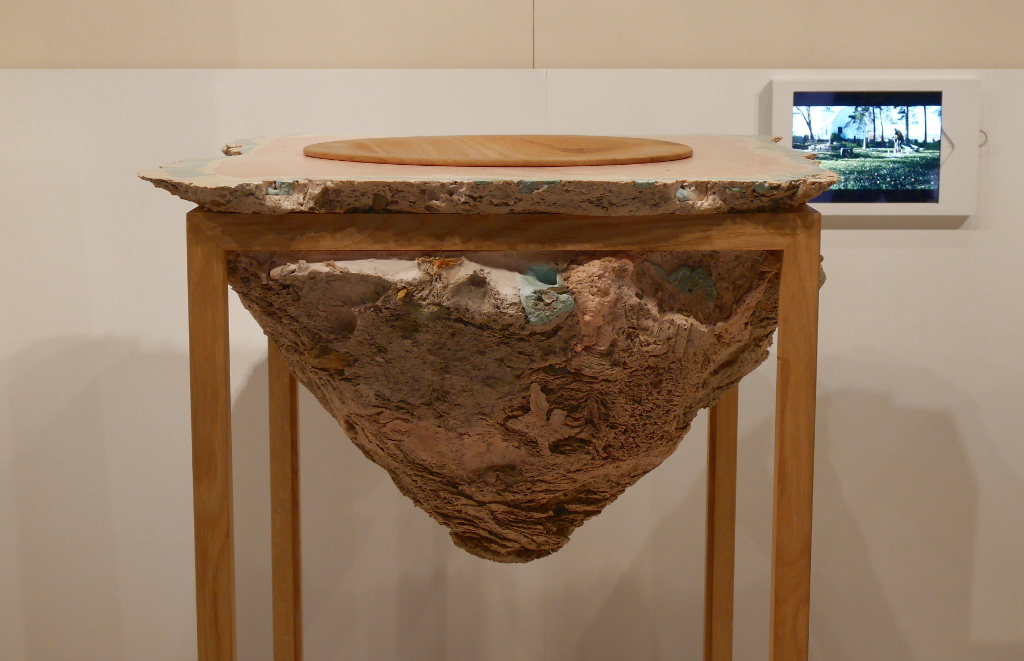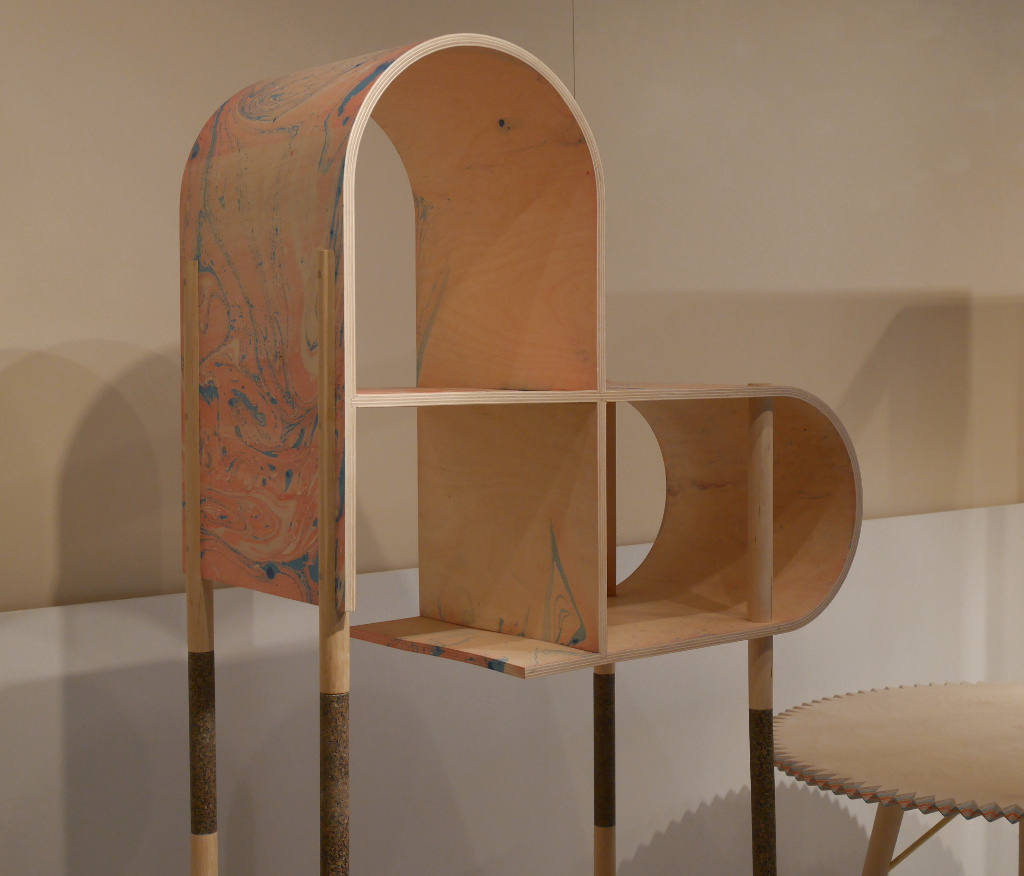 After a string of pretty trippy shows a the Greenhouse, New Way Out by students at prestigious Beckmans is more conventional and focused but not necessary more bland. Façade by Vera Panichewskaja is freestanding room divider in the shape of a giant sun fan that also can be placed outside, presumably to prevent curious looks, or redefine a preexisting spatial context. Andersson is a rattan sofa informed by urban visuals, the back rest spells out Isa Andersson's last name. Aron Lidström's multi-use Rullo could be used as a table, container, trolley or whatever. This piece has a strong graphic profile with its perforated side panels, sleek bent profile and monochrome powder coating, very much in line with the greater aesthetic expression of new Nordic design.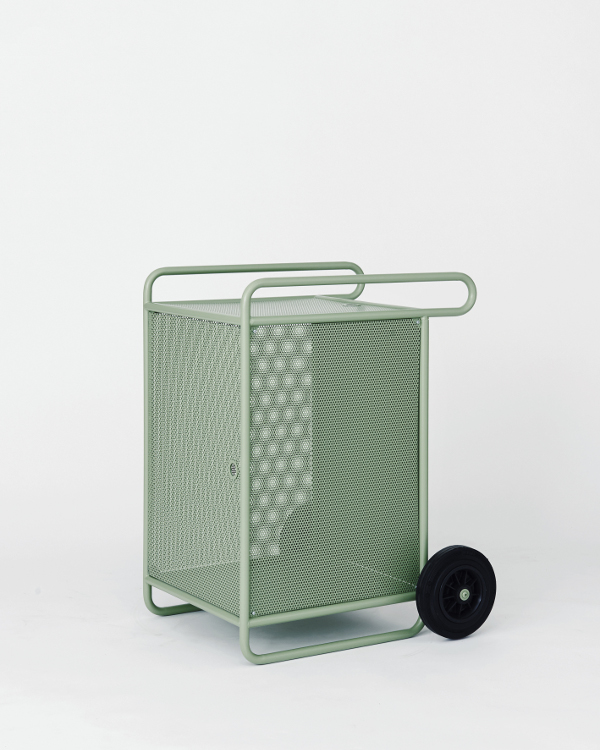 From Finland, Aalto University has made it something of a tradition to bring experimental chair prototypes. Last year it was Klein-blue plywood chairs and this time it's black cafe chairs, many with references to art and design history. Metropolia's New Party is a collection of selected works in a highly stylized setting. The most unconventional piece is the Lively Pendant by Luara Lerkkanen and Mikko Siponen with a shade made out a new material called Paptic, a woodfiber based material with qualities similar to plastic. Finally Turku University's collection is a mixed bag entitled Nordic Tropic, a collection certainly far from what is traditionally associated with Finnish design.